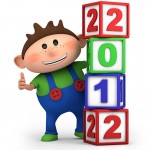 The only New Year's resolution I make is to resolve not to make New Year's resolutions. I merely strive to make the best of each day.
I know that every day brings challenges, some greater than others. But I meet those trials as I always have, by arming myself with three weapons of choice – a positive attitude, a sense of humor, and trust that my spirituality will guide me to make the best decisions.
Life is too short and too precious to squander time with inconsequential matters or mean-spirited, drama prone people. Better that I look at the bright side, the light side, to help keep negativity at bay.
No, I don't make New Year's resolutions or redundant long-range plans. But I do thank God everyday for my blessings of which I feel I have many, including the freedom to utilize daily prayer and inspirational messages to fortify my spirit.
One of my favorite inspirational poems is the one below. Written by Dr. Benjamin E. Mays, Past President of Morehouse College, it is frequently recited by author and motivational speaker, Willie Jolley, whom I had the pleasure of meeting several years ago at one of his seminars. Perhaps it will inspire you, too.
I have only just a minute,
Only sixty seconds in it,
Forced upon me, can't refuse it,
Didn't seek it,
Didn't choose it,
But it's up to me to use it,
I must suffer if I lost it,
Give account if I abuse it,
Just a tiny little minute,
But an eternity is in it.
Since its debut last summer, Potpourri101 has published numerous personal commentaries and op-ed pieces about controversial issues like Harold Camping's Apocalypse; Black Women's Hair; the Dissing of President Obama; Breast Feeding Baby Dolls; the trial of Casey Anthony, the trial of Michael Jackson's doctor, Conrad Murray; and Herman Cain. Thank you to all of my readers — especially those who leave comments. If you have chosen to simply be a lurker, then perhaps in the coming year you too will feel free to add your two-cents.
Happy New Year from Potpourri101!!!