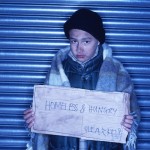 Kim Kardashian is a beautiful woman. She was an even more beautiful bride. Word is that she had three wedding dresses and walked down the aisle in Vera Wang. Reportedly, the wedding cost over $10 million dollars and will be broadcast in October on a four hour TV special.
According to the Bureau of Labor Statistics there are 13.9 million persons (9.1 percent) unemployed in the U.S. People are continuously losing their homes, their jobs and their minds. It is quite evident that the financial crisis in our downward spiraling economy is fueling murder/suicides; as newly unemployed breadwinners kill their families and themselves.
According to the National Alliance to End Homelessness, there are approximately 671,859 homeless people in the U.S. and a huge number of those are veterans.
Seventeen million children in the U.S. go to bed hungry every night.
Long story short. Call me a partypooper. Call me envious. Call me what you want, but tell me is there anyone out there besides me who is sick of hearing about the Kardashians when there are more important matters to be concerned about?