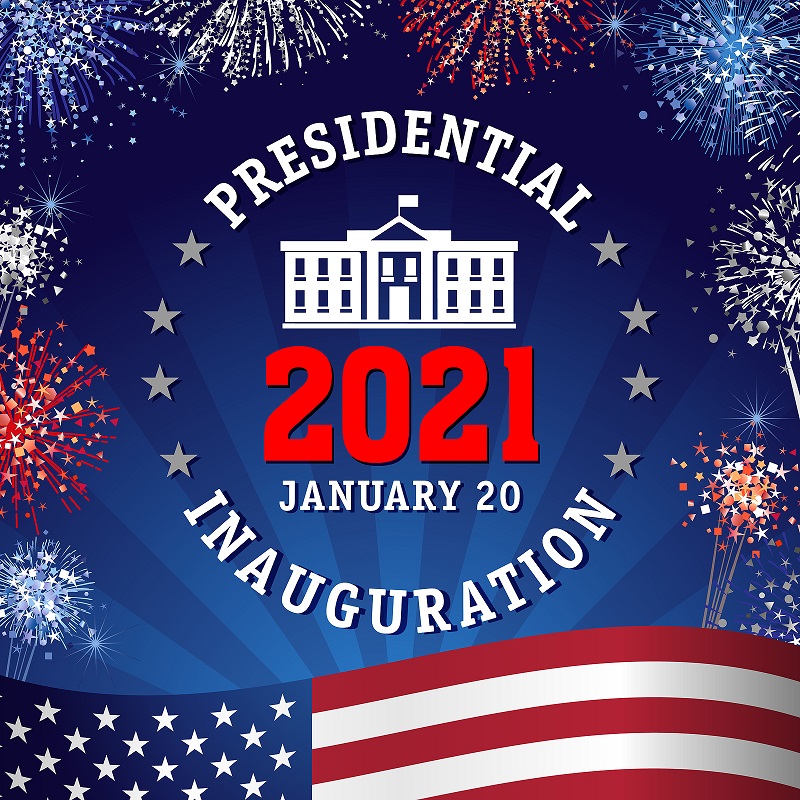 Talk about being a crybaby. I can't help myself. When it comes to pomp and circumstance, I am a waterfall. Weddings. Graduations. Funerals (Funerals don't count. A lot of folks cry at funerals.). A good book or movie can also bring on the waterworks. Sometimes when I am angry I cry Quasimodo ugly, but when I am happy, I shed tears of joy.
Yesterday's Inauguration ceremony was a happy crying time. Like numerous other Americans, I had been looking forward to that day since November 3. After climbing out of bed and showering I brewed a pot of coffee. (Hazelnut, delicious!) Then, I turned the television on to my favorite all-news channel and hopped on my stationary bike. From 8 a.m. throughout the day, until near midnight, I watched all things Inaugural. My planned bike riding marathon lasted an hour.
As the reports of the activities and events leading up to the Inauguration were broadcast, I got weepy. It wasn't the fact that the long-awaited transition of power was almost over that made me emotional; it was the beauty and solemnness of the ceremony. I can't remember how many times I snatched a tissue from the Kleenex box.
Knowing that I have a hair-trigger emotional switch, I always fight to hold back the floodgate, but there are times when the safety lock fails. Take Tuesday evening, for instance. I was watching the commemorative service held at the Lincoln Memorial for the COVID victims and was doing well until Yolanda Adams sang one of my favorite hymns, Hallelujah. That did it. Crying time.
Then yesterday, my eyes welled with tears as the Bidens' motorcade arrived at the Capitol. As the first couple exited the limo, joined hands, and walked up the steps (steps that on January 6 looked like a scene from Night of the Living Dead), I had a one tissue, two teardrops moment.
Seeing Kamala Harris and her husband descending the steps to be seated in the ceremonial area was a two tissues moment. More tears fell later when Kamala was being sworn in.
But before the swearing-in ceremonies began, when the Obama's arrived and walked through the passageway and down the blue and red-carpeted steps leading to their seats, I lost it. The dam broke. I emptied the Kleenex box.
At one point during the program, MSNBC political commentator, Joy Reid, said that she was having a goosebump moment. Excuse me, Joy, but I had flash floods. I later learned from many of my Facebook friends that they also turned on the waterworks during the ceremony.
I know that there are some people who may not have shared the joy that so many of us felt yesterday. People have different ideologies regarding politics, and this not so "perfect union." Some of the nonconformists are my friends. Like them, I am aware of the odious acts of violence and other racial injustices committed against Black and Brown people in this country. As many objectors do, I protest against it, speak out against it, and do what I can to try and bring about change. But I refuse to walk around every day feeling disgruntled about the status quo. Life is too short, and that baggage is too heavy to carry. Sometimes I choose to set aside the load and be happy, if only for a few hours. If only for a day. I heed the advice of Bobby McFerrin, "Don't Worry Be Happy." Yesterday was a day to feel happy.