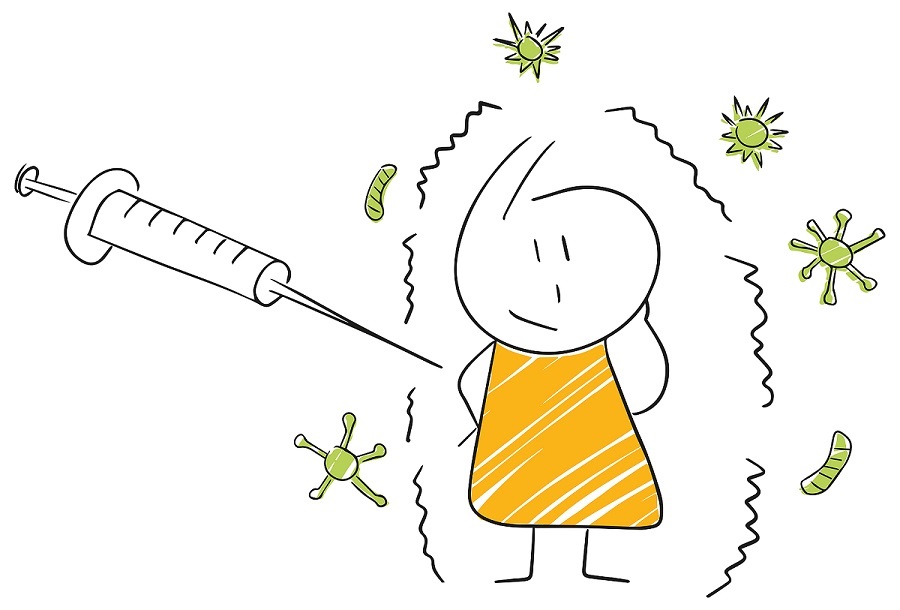 This is a touchy subject, so Dear Journal, let's keep this between you and me and my numerous blog readers.
I recently read an article written by Gene Weingarten, my favorite humor columnist at The Washington Post. He put a light spin on a serious subject, the COVID-19 inoculation process. As we know, health care workers, first responders, and people over 65 are among those who have first dibs on receiving the COVID vaccine. As a senior himself, he was indeed joking when he cited the priority arrangement as "some weird national system that seems to give preference to people who are already half dead."
Before receiving his shot, Weingarten kidded about having "vaccine envy." I do not. First of all, I hate getting shots. Just looking at a needle causes a full-blown anxiety attack. Secondly, I do not follow the crowd. If I do something, it's because I want to do it, not because I feel persuaded by the CDC or universal acquiescence, or as some might call it, herd mentality. My rebuff was formed decades ago after reading Bad Blood by James H. Jones and studying other publications about the Tuskegee Study conducted between 1932 and 1972 by the U.S. Public Health Service and the CDC. I was young and naïve when I learned that our government would betray the public trust by sponsoring something so hideous. Though I've since learned of other shady events that are said to have been orchestrated by the government throughout my lifetime, I have never been able to erase the mistrust planted by the Study. It settled in my mind the way a leech burrows under the skin and it stays there.
Confession aside, clarification required. I am not saying that I will never take the shot. That's something else I've learned during my journey to seniority. Never say never. But I will say that you won't see me cutting the line or concocting methods to cheat to get ahead of other people who fall into the most vulnerable category. I'll wait.
If – I said IF – I get the shot, I'd prefer the Johnson & Johnson single dose. However, it is my understanding that people being vaccinated don't get a preference. You take what they give you.
I have read reports of people having severe allergic reactions to the vaccine and of at least four people who died shortly after taking the shot, including a woman in California and a Florida doctor. As expected, the public was told that there is no apparent link to the shot and those deaths. That may be true. Maybe it was just their time. We are all going to go, sooner or later, one way or another.
Of course, numerous people have been inoculated or will be, who will suffer no ill effects at all. God bless 'em!
I'm not kidding when I say — I don't do shots. I haven't had a flu shot since I was in grade school; haven't had the flu either. (She said knocking on wood.) My doctor's suggestion that I get the pneumonia, shingles, and any other vaccines recommended for older adults has also fallen on deaf ears. Don't think that I don't know that I am as susceptible as anyone else to falling victim to any of the illnesses mentioned above and some that aren't. I also know that getting coronavirus could land me in the hospital or worse yet, in the Big Sleep. A heart attack, aneurysm, car accident, even a nasty fall could also be fatal.
Anyone who takes the COVID vaccine, I say more power to them. Far be it for me to try and dissuade people from doing their thing. As I said, I never say never. I may take it one day.
Sorry to continue on what some would deem a morbid subject, but there is only one certainty in life, and it is death. As Dr. Martin Luther King, Jr. said, "Longevity has its place." Most people want to live as long as possible. Undoubtedly, some folks wish they could stay here indefinitely. The fact is, no matter how many precautions we take, whatever great physical shape we think we are in, or how many shots we take, it's not our call. When the Almighty places a checkmark beside our name, calling foul or time out won't mean a thing.
In the meantime, the best we can do is make the best of every moment we have. And if taking the shot gives reassurance, then, by all means, people take the shot.