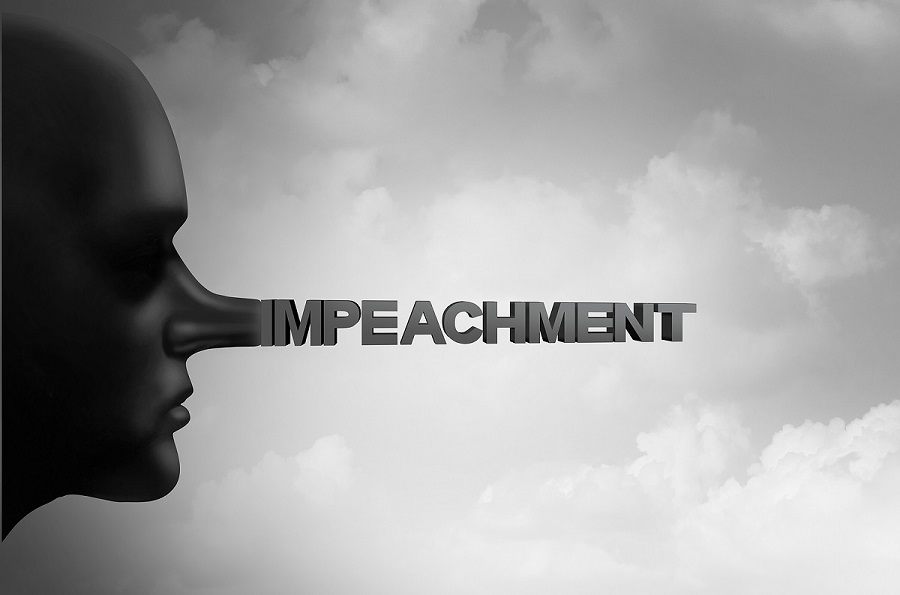 The following post was written by Guest Author, David White.
Think 1955 in Tallahatchie County, Mississippi. The murderers of Emmett Till are on trial, and everyone – everyone – black and white knows that the outcome of the case is a foregone conclusion. The prosecution team does the best they can. Till's Uncle, poor Mose Wright, under immense life-threatening duress, identifies the culprits in front of the crowd in the courtroom, and the murderers still get off scot-free.
Fast forward to 2021, and put yourself in the House Managers' position at the 2nd Impeachment Trial of Donald Trump. Imagine the demoralizing effect of knowing that you face a group of Senate jurors who are as intractable and oppositional as those in the Emmett Till case. The Managers did an excellent job. They certainly inspired me to want to do more to ensure that we preserve the ideals they so eloquently and fervently advocate.
Their opponent was the personification of autocratic nihilism, a man who would gleefully watch the destruction of the beautiful Capitol building, a structure erected with immeasurable toil, blood, and tears. A man who would encourage an insurrection because voters spoke and he could not find enough accomplices to help implement his devious plan to invalidate the election results and maintain power.
The word that perhaps best sums up what I witnessed from the former president's defense would be "absurd." Of course, when your client is the 45th president of the United States, you expect nothing other than absurdity.
Look at some of the imprudent and sometimes humourous outbursts from the trial (with a few personal interpolations).
"Mr. Chairman, the prosecution is being unfair, they're bringing in evidence that implicates my client, and I feel that is prejudicial and so….uh, wrong".
"Mr. Chairman, they're using his words as reported by the media and as promulgated on social media platforms, and how can that be fair? After all, they're only reports, and who would ever be prosecuted or found guilty on mere reports, even if they are his own words?"
"I declare 'reports' to be hearsay and inadmissible and totally unfair".
"I say they should present their case without reports, without incendiary video, and simply go about fixing the pandemic and racial inequity."
"Mr. Chairman, we reserve the right to imply that their presentation is fraudulent and hypocritical because we say it is."
"And we reserve the right to present statements into evidence that are mere assertions and assert them as facts, because – the prosecution is partisan."
"And we know they're partisan because they identify as Democrats, except Liz Cheney, Mitt Romney, the numerous other Republican congressmen and women who declared the trial valid along with the over 100 legal scholars of all political persuasions who determined my client was guilty of inciting insurrection. So, this whole trial should be declared a sham, and let's all go home in the name of unity."
"Oh, and by the way, the videos they showed with my client appearing to egg on those pre-meditated incursionists didn't tell the whole story. They forgot the part, somewhere after about the tenth time he said fight, that he dropped in the word peacefully in a totally non-sarcastic manner. As we know, my client does not have a sarcastic, insincere bone in his body."
"Since they can doctor up videos let me show you some totally out-of-context videos, for several minutes, of numerous Democrats, many of them in this chamber at this time, using the word 'fight,' which of course I will present in a nonpartisan manner because we on this side don't believe this should be a partisan matter."
"And while I'm at it, let me show some gratuitous videos of violent street incidences involving a lot of people of diversity with the implication that these are Black Lives Matter and Antifa members; not Trumpers acting violently, though not put in any contextual framework because – somehow this is really a trial about Antifa and BLM, and we really shouldn't be partisan."
"So, in conclusion, Mr. Chairman what I'm saying is, you can't find that my client, who called those well-known violent thugs, racists, anti-semites and kooky conspiracy theorists to the Capitol for a 'wild' day as Congress was certifying the election that he legitimately loss, but which we don't have to admit, guilty of incitement, just because he sent them there to fight like 'you know what'  or they would lose their country."
"Oh, one more thing, can you call a recess so that I can consult with the jurors as to how to go about assuring my client's acquittal?"
I brought up the Till case to push back on this notion that I've been hearing from pundits that I generally respect, like Ari Melber and Joy Reid, that the House Managers were derelict by not demanding witnesses to "look those jurors in the eye" and tell them about the pain and suffering they've endured. Presenting witnesses may have produced more tearjerking drama, but in my opinion, it would not have brought more conviction votes from naysaying Senators who had already – over three days – seen proof of criminal acts.
Just as an affidavit, handwritten by Emmett Till and certified by God, would have been rejected by the Mississippi court, no truth or proof that anyone else could have provided in that Impeachment Trial would have swayed any of the Trump loyalists.  Furthermore, the trial would have descended further into their nihilistic trap and turned into a comedy of errors.
Lawyers for the Defense:  "Mr. Chairman, if they call this witness, I demand that Kamala Harris be called…VP Harris, are you now or have you ever been a member or associate of Antifa or BLM?"
House Managers: "Objection."
Lawyers for the Defense:  "You can't object. This isn't a real court of law, and the chairman is not a real judge. Mr. Chairman, they are being unfair in not allowing me to question my witness as I see fit." (Moments later) "The defense now calls Rep. Maxine Waters to the stand."
Back to critiquing the trial, I loved how Chaplain Barry Black designed his opening prayer to touch the conscience of anyone who was listening who had a conscience. He was precise about what the trial was supposed to be about (truth over falsehood, courage over cowardice). And I imagined his majestic voice and prayer emanating from above, delivering a message about good battling evil, and lies versus truth to souls that need saving.
House Managers Jamie Raskin, Joe Neguse, and Stacey Plaskett's presentations were uplifting, and I was especially impressed by their impassioned, principled exhortations to righteousness. Raskin's citings of Thomas Paine, Benjamin Franklin, and the Bible were also profoundly inspiring.
Although most Republicans clung to their false prophet, there were some courageous living testimonies on that side, too. Burr, Romney, Cassidy, Murkowski, Collins, Sasse, and Toomey sought and will find salvation in the truth.
Following the Emmett Till trial, Wright and the two other black men who testified against the killers had to relocate away from Mississippi. The fate of the courageous seven Senators in the 2nd Impeachment Trial, along with the previously insufferable Liz Cheney, may not cause them to be run out of town; still, it is not unreasonable to think that a megalomaniacal sociopath and his disciples will try to punish them in every way possible. They are to be commended for their courage.
The "fight" for justice continues, and righteous warriors carry on.