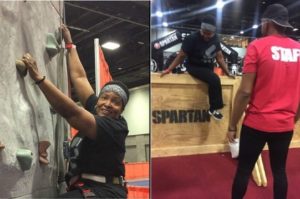 Each year, a local TV station sponsors a Health and Fitness Expo where no-cost wellness classes and health screenings are available to attendees. There are also hands-on activities including endurance events to challenge health enthusiasts like me.
In years past, I have participated in exercises from aerobic to yoga; but the thing that beckons me most is the rock wall. You might think that a card-carrying AARP member might shy away from something so rigorous. No so, I enjoy a challenge. So upon arriving in the exhibit hall early Saturday morning, I headed straight for the rock wall. Game on!
Before a participant is strapped into the safety harness and allowed to climb the wall, we are required to sign a waiver. It warns that if I should fall and break a bone, sustain some other bodily injury, or worse yet, drop dead – while not acting my age – the contract absolves the promoter of any liability. After signing the waiver, a red, one-inch wide band, similar to the band you receive in a hospital emergency room, was placed around my wrist indicating that I had signed my life over to Divine Providence. Also, in case I wanted to try the climb again later or attempt some other age-defying stunt, I would simply show the band to the staff person.
A previous attempt and failure to scale the wall two years ago made me more determined to try again. With true grit, I was able to propel myself a few stones higher this time. The Lat Pulldown and other strength building gym machines had helped me build my upper body strength, but it wasn't enough. I was about four feet off the ground when my calves started cramping forcing me to end my quest and indicating that I should have spent more time stretching.
As I walked away from the wall, feeling defeated but not dejected, I glanced back to see a young boy who looked to be about ten years old ascending that wall like Spider-Man on a mission.
Geared up for another challenge I went in search of the Spartan exhibit. Days earlier I had watched a young reporter on TV demonstrate the Spartan race and I told myself "I can do that."
Unlike the real 3-4 mile Spartan race with its many obstacles and competitors, the Spartan course at the expo is a scaled-down, mini-version. The first thing a contestant does is warm up by running 30 seconds on a curved treadmill. Then, the objective is to go through each obstacle on the course as fast as you can. Since I wasn't competing against anyone but myself, time didn't concern me. My goal was simply to conquer each obstacle.
After getting off the treadmill, I walked (did not run) to the first wooden wall, it was approximate four-feet high. The struggle to climb over it took me approximately 5 minutes. (I could have walked around it, but that would have defeated the purpose, would it not?) Next came the bear crawl. That was easy. I scooted beneath the mock-barbed wire fence in about 60 seconds. After exiting the bear crawl, I was supposed to run to and climb over a higher, inclined wall. That wall was twice my height, at least 10 feet. After two earnest attempts, I walked around and found myself facing another wall. It was 7 feet. Pass! The final task was to pull myself up on a rope mounted to a post and ring the bell at the top. Sound easy? It wasn't.
The two young men on the staff, who shadowed me along the course probably had a good laugh about my senior version of the Spartan crawl, er, I mean race after I left, but throughout my effort, they were encouraging and even gave me a high-five as I strolled across the finished line.
I'm not dismayed that I failed to complete the Spartan course. Completing two out of five obstacles wasn't bad. I enjoyed every challenging minute. Later that Saturday evening I had some muscle aches, and pains in places that I didn't know could have aches and pains, proof that I had pushed my body. I think I'm hooked now on the Spartan course.
My cousin, Rai, told me that she is planning to do the real Spartan race. She's athletic and half my age. I know she will finish the course. I'll just wait until next year's expo and try the mini version again.