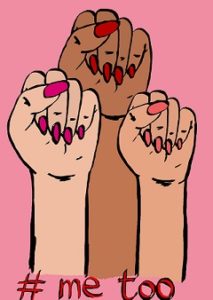 Watching the Kavanaugh hearing this morning is difficult for me, as was the Clarence Thomas vs. Anita Hill testimonies. It is resurrecting memories from an evening in the 1970s when I had an unfortunate encounter with a person in an authoritative position who I once thought was a friend. As I tussled with him and told him numerous times to stop, I interjected what I thought would jog him to his senses, "I will report you to the police." "Go ahead," he sneered. "Do you think they will believe you or me?" The only thing I know that stopped the attempted rape was my silent prayers to God, because for no other reason that I can think of my perpetrator suddenly released me and left. I never talked to or saw him again after that. But if he is ever a candidate for a prominent position and I have the opportunity I would indeed speak up about his character as I remember it that evening.
Until this day, the only person I ever told about that incident was my best friend. I didn't even tell my mother. Sadly, my confidant died a few years ago. I will always remember and appreciate when I telephoned him, in tears, and told him what had happened how supportive he was. "Report him to the police. Right now. I will go with you." He said. I was a young, divorced mother of two, and as Dr. Ford said, "terrified" so I never reported the attempted sexual assault.
Because I didn't report it, doesn't mean that it didn't happen. So for the holier-than-thou women and men who might be judging Dr. Ford (and other women in the me-too movement), I say this. Women do not forget things like that. Not in days, weeks, years, or decades. The terror of such an encounter never leaves you. So, if you are a woman or man standing in judgment, I pray that you are never a victim of an assault of any kind.
Whenever I hear about women, who have been assaulted and remained silent because they felt that they would not be believed I feel like crying.
Decades ago, one of my cousins was raped in her junior high school. My mother told me about the attack, and I've never forgotten that conversation. I was shocked that such a thing could happen inside a public school and more surprised that it could happen to someone I knew. At that time you didn't hear about things like that occurring inside a school. Although my cousin and I are occasionally in touch, I have never mentioned it to her, but I do not doubt that she is still dealing with it. I will not name her here. If she chooses to tell about the incident, it is her story to tell, and I will leave that to her.
As Former Prosecutor, Cynthia Alksne said on MSNBC this morning, during a break in the hearing, "When you are the victim you remember the trauma."