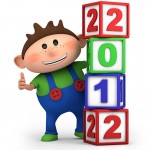 The only New Year's resolution I make is to resolve not to make New Year's resolutions. I merely strive to make the best of each day.
I know that every day brings challenges, some greater than others. But I meet those trials as I always have, by arming myself with three weapons of choice – a positive attitude, a sense of humor, and trust that my spirituality will guide me to make the best decisions.
Life is too short and too precious to squander time with inconsequential matters or mean-spirited, drama prone people. Better that I look at the bright side, the light side, to help keep negativity at bay.