Who hasn't had one of those nights when you either could not get to sleep or could not stay asleep? This occasional insomniac recently had one of those evenings, and I recorded my troubles in my diary.
Dear Diary,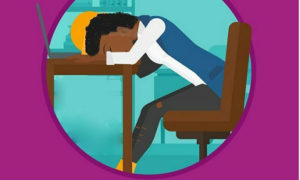 It is now 4:12 am Thursday. I went to bed at 11:30 last night. Before I closed my eyes, I glanced at the clock. It showed 12:15 am. I must have dozed because when I next looked at the clock, I was surprised and perturbed to see that it was 1 am. After that, I was sleepless – only not in Seattle. No matter how I tried, with thoughts racing through my mind like a runaway train, I could not turn off my brain, relax and slide back to slumberland. When the futility of tossing and turning for the next few hours produced no palpable results, I decided to get up.
Although this sleep disruption occurs infrequently, I am getting too old to be pulling all-nighters. When I was younger, I could stay up until the crack of dawn and then go to work the next day, no problem. As long as I had a cup of coffee on my desk, I was good. But, alas, being caffeinated doesn't do it for me anymore as far as staying awake. I can drink a cup – or two – of the strongest brew and still crawl into bed and sleep through the night. I didn't even drink coffee on Wednesday.
When I am trying not to think about anything except sleep my thoughts are all over the place. I ponder the chaotic state of the country and how race relations seem to have reverted to the way it was before the civil rights movement. I worry about how Godless and mean-spirited people are and the lack of civility in society. I think about events from my past and wonder about things that might occur in the future. I think about people whom I've known and loved who are no longer alive. An idle mind may be the devil's workshop, but a sleepy head is a garage full of disorderly thoughts.
Dragging myself out of bed, I walk to the dining room, open my laptop on the table near the window, and here I am. It's you and me, Diary. Back in the day journaling with paper and pen was the way to go. Now keeping an electronic diary is much more convenient and easily secured with a password. So while the rest of the world is sleeping, I am typing away.
My inanimate companion, here are some of the things that I've done or thought about doing during my sleepless state this evening.
I ate a banana. I read somewhere that bananas help promote sleep. We shall see.
I considered cleaning the bathroom. Changed my mind. Moving the scrubbing pail around and splashing water might wake the sleeping dead. Not a good idea in the middle of the night.
Turned on the TV. Low volume. A slasher movie is on. For about 15 seconds, I stare wide-eyed at a blood and guts scene. That's more conducive to a nightmare than restful sleep. After channel surfing through a few infomercials, I turn off the set.
Listening to an audiobook usually lulls me to sleep, so I try it. After a few chapters, I start to feel drowsy and return to bed. Immediately, upon hitting the sheets, I began fighting with my pillow. Finally, I land a punch that puts the cushion into a comfortable position. I rest my head on it, close my eyes and began to drift off. Just as I am crossing the threshold to dreamland, my mate starts snoring like an ATV bike on a dirt road. Are you kidding me!
I grow tired of shaking him, only to have him obligingly roll over before the snoring resumes. I'm out of there.
So here I sit. As usual, the air conditioner in the unit of my upstairs neighbor is running and dripping water that sounds like huge raindrops splashing onto my AC directly beneath it. I love this place to have lived here for 42 years, but expecting complete contentment in a tenement is a pipe dream, even when you are part owner of the property.
The microwave clock shows 5:45. How did 90 minutes pass so fast? Leaving my elbows on the table, I raise my hands to my face, interlock my fingers and rest my chin on my hands. With my eyes closed, the only thing I am aware of is the drip, drip, drip of the water splashing on my AC.
And then, a thought hits me. Log in to Facebook. Surely, I will see the little green light indicating that some of my friends are also online and I'll inbox someone so we can chat. Wouldn't you know it, only one green light on and that person is someone I don't know well enough to begin chatting in the middle of the night.
It's almost 6 am. In another hour or so I would have been getting up anyway; that is if I had slept. What's the use in hitting the sack now? I'll be a mess tomorrow, I mean today. Whatever. My yesterday came straight into today with no rest in between. I'm sure that around noon I'll feel the repercussions of a sleepless night. Or I will still be sitting here, typing. My eyes will grow heavy as sleep creeps up on me. My head will slowly bow causing my upper body to continue leaning forward until suddenly my face falls flat on the keyboard and I will … zzzzzzzzzzz.