Written by Velda Holmes
Guest Author
Several years ago, I went to the funeral of a co-worker.  There were a few tears shed, but mostly there was laughter, smiles, and heads nodding in agreement with something said that was spot-on. A celebration of a life that had touched many people in a positive way. I left that funeral thinking, "Isn't this the way it should be? He would've wanted it that way."
The recent passing of a beloved cousin, Akintunde Kenyatta, made me reflect on that funeral.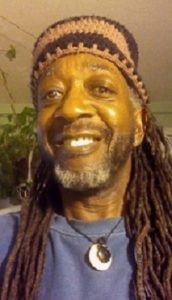 I believe it was early 2007 or 2008 when Akintunde reached out to my Aunt Mildred. He was searching for the Parkers. (His dad's side of the family.) Aunt Mildred's husband, Willie Parker, was one of nine Parker siblings.  Unfortunately, my aunt had to inform Akintunde that her husband had passed away, but his two brothers, Alton and Allen Parker, lived in North Carolina.
Akintunde contacted them, and I happened to be at my Uncle Allen's home when he visited. As is my nature, I was immediately suspicious. Who is this cat? I wondered. No "Kenyettas" in the family that I know of. Hummpf, this joker is a flimflam man!
He laid out his roots, starting with his father, Chesterfield. At the mention of that name, my uncle perked up. Yes, he knew his dad! Both men smiled and talked for a long while. I knew then; this was "legit" as they say.
From then on, there were phone calls, lots of jokes, Facebook posts, shared family history, and pictures. Akintunde was passionate about family. In turn, we became passionate about him. He brought fun and joy wherever he went. He came to every annual Parker family reunion he could. The most recent one took place in October 2017, at Virginia Beach. It was special because we were not sure if he would attend because by now he was putting up a good fight with his illness. A fight, we were all sure if anyone could beat, it would be him. We were in the fight with him, too. Praying, sending flowers, sending cards, blowing up his Facebook page. "That's right," we all said constantly. "God is still in control."
In spite of ill health, he came to the reunion. He was visibly frail and weak, but still flashing that sunshine smile. His attendance was special because he met another cousin who he had met only once before, Loretta Brown, who, as it turns out, had not been to a reunion herself in several years. Thanks to modern technology we all shared antidotes, pictures, and ideas via Facebook, so meeting in person was an added treat.
Sadly, 72-year-old Akintunde passed away a few days ago. We will miss him terribly. We search for favorite photos of him, little drawings he made (he liked to draw) and other memorable items. There is so much that we can say about him, like how much he loved his wife, Kim. He was a BIG Baltimore Ravens fan. All of the family is still in awe of the feat he performed about three years ago. He went skydiving.
He was a musician, an awesome brother, a super proud father, grandfather, a great friend, and a loving human being. He has taken his place now among the elders. I believe that many of our family members reading this will be nodding their heads in agreement, and smiling and laughing in celebration of his life.  He would want it that way.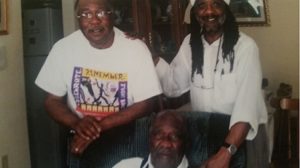 *** To see comments about this post, click the word "Responses" beneath the line. Also, click on the picture of Alton, Akintunde, and Allen to see additional comments.