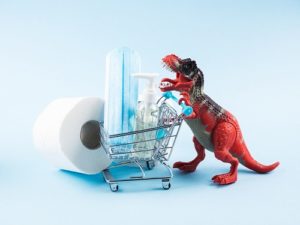 People are losing their mother freakin' minds. Our lifestyles, social practices, and in some cases, living arrangements are changing from day-to-day. The novelty of enduring temporary adjustments has worn off, and social distancing is forcing another new norm upon us. Health-minded, law-abiding citizens are trying to comply with each change, while resisters in places like Michigan are openly protesting. Nearly everybody's patience is growing wafer-thin, and some people are spelling pandemic P-A-N-I-C.
I don't go outside very often unless I need something from the store or am feeling claustrophobic and desperate for a change of scenery. This morning, I decided to go out and buy groceries, and I invited my daughter and grandson to join me in case I purchased more items than I could carry.
We were all wearing masks as was everyone who I saw in the store, and most shoppers were following the silly arrows on the floor, directing pedestrian traffic.
As we were preparing to leave, we apparently got too close for comfort (less than 6 feet) to a woman who was standing in front of the exit with her cart of groceries. She too was wearing a mask.
Perhaps she was waiting for a ride; I don't know. What I do know is that if you don't want people walking near you, then you need to stand someplace else instead of in front of the exit door. Anyway, as the three of us drew nearer to her, she got wide-eyed, grabbed her cart, and sprinted back into the store, all the while mumbling something mostly indecipherable about social distancing. I can smell attitude from a mile away, and she had a big-time bad attitude, which I chose to ignore.
As I said, people are losing their mother freakin' minds. And to add to the madness – some grocery and convenience stores are now scheduling shopping days based on shoppers' last names.
Stressed to the max is the phrase of the month. I won't be surprised to see skirmishes start to break out in grocery stores and everywhere else over little indiscretions. I feel that if things don't turn around soon, it will come to that. I say turn around instead of return to normal because I doubt if normality will ever return. Normal bought a one-way ticket to forever-gone. Having to adjust to new societal rules like social distancing is driving some previously mild-mannered citizens mad. What do you think?