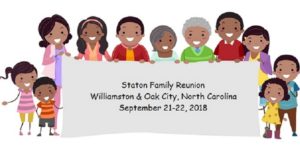 A year ago, I wrote a post about the joy and pain of being a family reunion planner. I am now revisiting that subject. Veteran planners will surely relate to much of what I say. You already know that planning a family reunion is a challenge. Amateurs, consider this a crash course in Family Reunion Planning 101.
Keep in mind that the process of planning a family reunion takes organizational skills, time and patience – lots of time and patience. And since there may be moments when you will feeling like crying and asking yourself, "Why did I volunteer to do this?" having a sense of humor helps lighten the load.
Most family members look forward to the reunion as an enjoyable occasion and a chance to socialize with family at an upbeat and pleasant event. It's a thousand times better than an unhappy occurrence, like a funeral.
Over the past few decades, I've planned or helped plan a few reunions. During the long intervals between reunions, some of my family members disclosed their wish that "someone" would plan another reunion; while others straight out asked me to organize one. I told them and had promised myself that I would never participate in planning another reunion because I don't need the stress. Proof yet again that one should never say never, I recently relented to assist my brother who chose to organize this year's reunion on the maternal side of our family.
I hesitate to say this, but I'm going to be candid. One reason that people do not want the responsibility of organizing a family reunion is that it is a pain in the – head, a headache. (Gotcha, didn't I?)  As soon as you begin planning the event, there are always a few relatives who did not want to assume the responsibility for the project, but who want to tell you how it should be done, where would have been a better place to hold it, and what activities should be planned. Then, if you politely refuse their suggestions or ignore them completely, some have the nerve to get an attitude. Excuse me, but if you didn't go through the labor pains of birthing the baby, then you have no claim to it. On the other hand, if you organize the reunion, then you can do as the Burger King slogan says — have it your way.
People who have never planned a reunion have no idea how much work is involved in doing it. Topping the aggravation list is the attempt to get people to send in their fee, contribution, donation – whatever term you choose to use for the money needed to fund the event (SHOW ME THE MONEY), preferably before the deadline. Expect some Johnny or Jills to pay late.
Reunion organizers tend to be reasonable and charge a practical fee. Some undercharge which often doesn't bode well for them. But, no matter how practical the cost, there will always be some folks complaining that it is too much. Imagine trying to have a splendid reunion on a dime store budget. Perhaps you could pull it off by holding the event at rent-a-shack, but it doesn't work if you want to have the reunion at a pleasant venue. Ideally, the combined contributions of all attendees will cover the essentials for the event, but it is not unusual for a planner who is determined to make it a successful and memorable occasion to wind up blowing his or her personal budget by paying numerous out-of-pocket expenses.
The primary responsibility of an organizer includes:
Creating a budget
Locating a hotel or other suitable site and negotiating for event rooms and lodging
Collecting fees from family members that will cover expenses and incidentals including costs for a hotel or another venue; postage stamps (for sending invitations to family members who are not online); catering service (if not a potluck meal); hiring a DJ or arranging other musical entertainment (unless a family member volunteers); audiovisual equipment, if needed; purchasing mementoes, freebies, name tags, stationery for programs, decorations, and other incurred costs.
Understandably, people who live in or near the place where the reunion is held bear fewer expenses than those who must pay transportation costs to travel from distant cities and for lodging unless they can stay at the home of family members or friends who live in or near the host city.
If you volunteer to be "It" and plan the reunion, it is a good idea to form a committee or committees, to relieve some of the burdens of doing it all. That is easier said than done. God bless the empathetic family members who volunteer their assistance. Utilize them, if needed – but be mindful that while many people are eager to participate in the festivities, don't expect them to volunteer to work toward making the event happen.
Above all remember the satisfaction you will feel when helping to create an enjoyable occasion when many members of the extended family congregate and hopefully, all will have a good time.