The following post was written by Guest Author, David White. The views, thoughts, and opinions expressed in this post do not necessarily reflect the opinions of the publisher of this blog.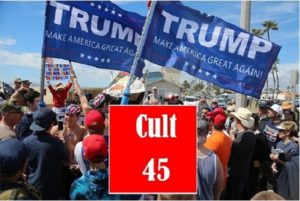 If they don't get it now, they'll never get it. Forty-five has essentially told you that your attempts to preserve and protect your life and health are an inconvenience to his grift and graft. What are a few thousand deaths in areas where I don't live when my ratings might suffer, and I might lose money and my presidency?
This weekend Joy Reid was asking her guests why don't the Trumpists see that they are being manipulated and lied to. David Corn put it as succinctly as anyone I've heard recently. He said, in essence, you have to let them go – they're not seeking the truth they have drunk the Kool-Aid.
Look at the Jonestown massacre. Those people had their leader. He was infallible in their minds. He sold them utopia, and they convinced themselves, despite all evidence to the contrary, that he was "The Man" to deliver them everything they wanted.
Now we have Cult 45. Their leader has sold his people on his evil, racist, selfish, egotistical reign by giving them the hope that he can show those others – the Latinos, Blacks, Jews, Asians, liberals, and anyone who doesn't toe his line that his kind will rule. What they don't fully appreciate is that the only kind he wants to rule are those like himself and his progeny. Everyone else is a tool.
But they buy his absurdity because he feeds them what they want – bigotry, wrapped in fake everything. Fake Christianity. Fake patriotism. Fake morality. Fake empathy. Fake compassion. And fake victimhood. He uses their resentments and frustrations to his own ends, and they let him because they identify with his racism and unconstrained id. They aren't turned off by his ugliness – they want what he has – and, reluctantly concluding that they might not get to where he is, they gladly settle for the schadenfreude they feel for the pain and suffering he inflicts on others.
Some historical records of the Civil War reveal that the poor whites who fought for the Confederacy did so, not because they were due to gain financially, but because of the psychic pleasure derived from subjugating and lording over those whom they could consider less than themselves (the black slaves, of course). The same reason why they concocted Jim Crow laws and the KKK.
The last and perhaps most challenging obstacle for Americans, black and white, and "other" is to remove the false social construction of race. Science tells us there is no biological divergence in the human species to justify any labels. We do it for sociological convenience. We walk past people every day who we would label white on sight who, by ancestry, would be considered black – and vice versa. But it is convenient to put individuals in racial compartments and then, based on compartmentation, determine how we then deal with them.
I know this is complicated and controversial, but the science is there. We are all on a human continuum of skin color and hair texture based on genetic mutations. We look like our progenitors – Asian, European, or African. Still, those aren't races. Those are mutations from generations and generations of the original race of all humans who came from Africa.
In another iteration, if Hutus had decided (and were able) to overrun the whole continent of Africa and subjugate the Tutsis and other tribes to slavery for generations, they would have justified it by claiming the Tutsis and others were different races and therefore not worthy of being treated the same as a Hutu.
I was outraged when I heard the latest spin by 45 and Fox that "We need to get the economy going and old folks and sick folks need to go on and die." Anything to restore the economy and prevent the so-called upper class from losing money.
As a precaution, eighty-nine-year-old media mogul Rupert Murdoch had his network cancel his birthday party while continuing to downplay the threat of the coronavirus to their sheep. They don't care about the elderly. They refuse to see through the charade because they have pledged full loyalty to the cult of 45.
Cult leader Jim Jones didn't have to force or coerce the hundreds of people who died with him in Jonestown, Guyana. They willingly and dutifully drank the Kool-Aid and 45's pigeons will too. We shall see how many are willing to drink to their end.