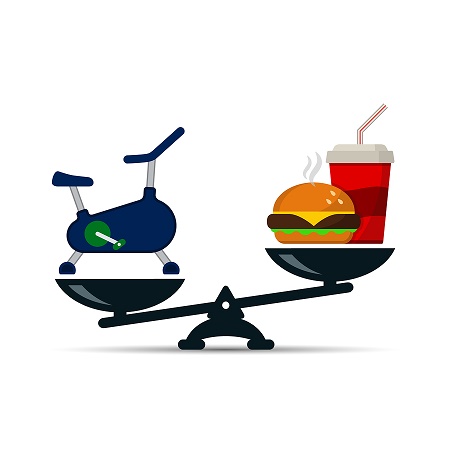 While most people eat to live, there are some, like my SO, who will unashamedly tell you that they live to eat. He is a gourmand; I am more of a health nut. That, clearly makes us an odd couple; otherwise, we are good.
As studies show, it is difficult for one person in a couple to maintain or lose weight when the other person refuses to make nutritional food choices for a healthy lifestyle. For example, I love salads. He says, "Salads are boring."  See what I mean?
I am determined and consistent. I watch what I eat, and I exercise regularly. Although I would be happy to lose 20 pounds, I am not dissatisfied with my current weight; I just don't want to gain more. Most days it feels like I am winning the battle of the bulge, one protein shake at a time.
Nutritionists tell us that the way to control and maintain a healthy weight is to balance calories we eat with calories we burn; burn more calories than we consume.
Exercise is the way to go; not dieting. I never diet. Don't even pretend to do it. I'm simply mindful of what I eat. I admit, sometimes, around certain holidays, I eat like it's my last supper. But most of the time, I eat healthy, nutritious meals and limit the amount on my plate. Unlike my SO, I rarely consume salt filled, artery blocking, nutrient-lacking, obesity causing fast foods.
Whether we are weight conscious or health conscious, calorie counting can be as distressing as listening to a rant by the current US Commander in Chief.
Take my breakfast meals, for instance. Some days I might eat a bowl of raisin spice oatmeal (150 calories), a couple of slices of bacon (86) and an egg (90). And I always have a cup of coffee. That's about 331 calories – give or take a few. On other days, I opt simply for coffee and a bagel.
Did you know that – according to the Mayo Clinic – a single cup of brewed coffee (without sugar) has less than five calories? Some coffee has only two. BUT include, as I always do, two teaspoons (or more) of Hazelnut cream and the caloric intake jumps to around 65. That's right, a single teaspoon of cream contains thirty calories. Add a regular sized cinnamon raisin bagel, and I'm up to 240 calories. Spread that bun with my favorite Salmon cream cheese increases calories to 70. And wham! That's 380 calories for a coffee and bagel breakfast.
According to the American Cancer Society calorie counter chart, I can maintain my current weight, by consuming no more than 2649 calories per day. Depending on what I have for breakfast, I'll have a balance of 2269 calories left for consuming during the rest of the day before the red-alert button starts flashing in my head. The same ACS article says that if I cut 500 calories daily by eating less and exercising more, I can lose a pound a week. By my calculations, that means if I follow their plan, starting tomorrow, I will drop at least twenty pounds by Labor Day.
Of course, then I'd probably have to give up snacks. I enjoy my snacks. Especially nuts. Nuts are said to be good for us. Take Cashew nuts, for instance. Umm, um. Love them.  But did you know that there are 160 calories in a one-ounce serving of Cashews? I could easily eat a whole 8.5 ounce can in one day, but I wouldn't. No, really. Okay, I might.
I also like M&M peanut chocolate candies. Six pieces – just six – of those little morsels contain 62 calories. Give up M&Ms? I can tell you that ain't happening.
I rarely drink sodas, but my favorite IZZE sparkling apple juice contains 130 calories and 30 (OMG!) grams of sugar. Would you agree when I say it's better off not to count calories if you want to enjoy what you eat and drink?
Fruits are good for us. I like most fruits. Fruits contain calories too, but they are a healthy snack. And then there are vegetables. Since I am not obsessively carnivorous, frequent veggie meals help me keep things under control.
As you can see from my synopsis, calorie counting can be an unwelcome distraction when trying to enjoy meals. So, why not eat, enjoy and then – Baby, work out!