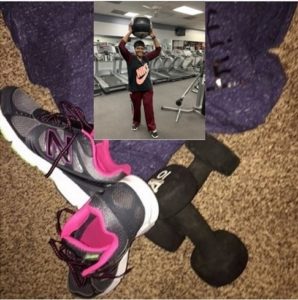 After being closed for two-and-a-half months, courtesy (perhaps I should say discourtesy) of COVID-19, the gym where I sweated through workouts for seven years reopened yesterday under the city's Phase 2 reopening plan. I returned only to inform the owner that I am not sure when I will be back.
When I arrived, the man who I call the world's greatest trainer was disinfecting the machines. He assured me that all precautions are being taken to ensure the health and safety of the members, including limiting the number of persons inside concurrently. I trust him but said that I'm just not feeling it right now and stopped by only to let him know that I will not be returning right away.
I was an ardent gym rat before the pandemic and usually paid my gym membership in six-month increments. As a result of the unexpected closure, I have two months' credit pending. However, I've always listened to my intuition, and right now, it is telling me, "Girrrl, don't you rush back there. It ain't over." My instinct has never steered me wrong, so I will heed the warning.
Amidst the pandemic, our city's mayor ordered the temporary closing of gyms and other businesses back in mid-March. Bummer! At first, I missed getting up at five in the morning, three days-a-week, to make it to the gym by 6 a.m. Now I'm sleeping a little later and exercising on a new schedule.
Determined to stick with a regular workout routine, I pulled out my dumbbells, exercise bands, set up my stationary bike, and began working out at home. That had been my practice for years before the thought of joining a gym crossed my mind. Now, after two months of solitary training, I've grown comfortable exercising in my private domain.
Dr. Adi Jaffe wrote in Psychology Today that "When we think, feel, and act in a particular way over a period of time, habits form, not only in our behavior but in our memory systems too…It's often challenging to change habits related to eating, exercise, and jobs." I met the challenge.
I miss going to the gym. But through no choice of my own, I've replaced the previous habit of working out at a fitness center with a new – and previously used – practice. I force myself to stay motivated, and I don't know when, if ever, I'll return to that place that had become my second home. In a world that is changing faster than a politician can spin a lie, I'm adjusting (albeit reluctantly) to yet another "new norm."