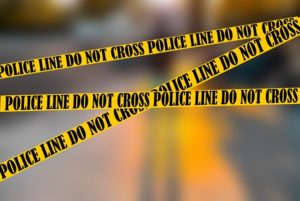 I cried this morning. After saying my morning prayer and thanking God for waking me, I cried for people who won't see the new day.
I cried for George Floyd, the most recent poster man for police abuse. I cried for Sandra Bland and Philando Castile. I wept for all of the people listed below whose lives resulted in unnecessary and senseless deaths at the hands of rogue law enforcement officers, and as in the case of Trayvon Martin, wanna-be-cops.
I no longer watch the video showing a policeman with his knee, pressing George Floyd's neck to the ground, applying his full body weight, squeezing the life out of the helpless man lying prone with his hands cuffed behind his back. Once was enough. I am tired of seeing videos of black people, particularly black men being murdered by the boys in blue, who, without courage fueled by a badge and gun, might otherwise be quivering cowards.
All seasons are open season on black people. Some cops – and I emphasize some because not all of them are bad – appear to take pleasure in using lethal force and lethal weapons against unarmed black men. You need a license to hunt animals, but black men are fair game. Shoot them. Stun them to death with a taser. Hang them in a jail cell or suffocate them on the street. Hands up, hands down, hands cuffed behind their backs, it doesn't matter to corrupt officers. They spot their prey and slay it.
The unmerciful killing of black people is happening in cities across the country. Will it ever stop? Amerikkk have you no conscience?
On May 24, The New York Times ran a list of people who succumbed to COVID-19. How about we start compiling and publishing lists of the black people who have been murdered by law enforcement officers or hate monger racists like those who killed Emmett Till, Medgar Evers, and Dr. Martin Luther King, Jr?
In these contemporary times, high-profile police brutality cases draw public attention and protests. Still, I suspect that numerous cases are so well covered-up that the public never learns about them.
It doesn't matter if brown-skinned targets happen to be in the wrong place at the wrong time or the right place at the wrong time. Any time or any place can be a kill zone for a cop on a mission, including one's own home.
If you have a relative or friend who you haven't seen or heard from for a while, do not, I repeat, do not call the police and ask them to do a wellness check. Last year, a neighbor of Fort Worth, Texas resident Atatiana Jefferson, after noticing her door ajar, called the police and asked them to look in on Atatiana. According to reports, a responding officer saw a movement through the window of Atatiana's home and fired. She was shot dead — in her own home. In September 2018, Botham Jean was murdered by a Dallas policewoman in his home. She claims she thought it was her apartment. In February 1999, Amadou Diallo was mowed down by four plain-clothed police officers. They blasted him with 41 shots as he was preparing to enter his apartment building. They claim to have mistaken him for a rape suspect, a claim that was never confirmed by any evidence.
When I began researching this subject, I was determined to find and list enough related cases to produce a list at least half as long as the corona list published in The New York Times. A list of black citizens who have been haphazardly murdered for decades would surely fill up several issues of the paper. In that regard, Coronavirus ain't got nothing on us.
While researching the subject, I read so many stories about people who unjustly suffered death by cop until I couldn't read anymore. Every story tugged at my heartstrings. My emotions were too raw for me to complete the task. In some cases, the officers were charged and convicted, but many times, they were not criminally charged. I read the line "No officers have been charged with a crime," so often, I thought I'd vomit. Many rogue cops get off Scot-free to live to kill another day. During a recent newscast, I heard a man say, "Being black in America should not be a death sentence." Oh, but unfortunately, it is.
If you aren't familiar with some of the names in the list below, Google them. Read their stories, pray for their soul, and say their name.
Akai Gurley

Albert Davis

Alonzo Smith

Alton Sterling

Alvin Haynes

Amadou Diallo

Andre Larone Murphy, Sr.

Ahmaud Arbery

Anthony Ashford

Artago Damon Howard

Arthur McDuffie

Askari Robert

Asshams Manley

Atatiana Jefferson

Bettie Jones

Billy Ray Davis

Botham Jean

Brandon Glenn

Brandon Jones

Breonna Taylor

Brian Acton

Brian Day

Brian Pickett

Bryan Overstreet

Charly Leundeu Keunang

Christian Taylor

Christopher Kimble

Cornelius Brown

Dajuan Graham

Dante Parker

Darrell Brown

Darrell Gatewood

Darrius Steward

David Felix

De'Angelo Stallworth

Denzel Brown

Deontre Dorsey

Dominic Hutchinson

Dominick Wise

Donald Ivy

Dontre Hamilton

Eric Garner

Eric Harris

Ezell Ford

Felix Kumi

Frank Shephard III

Frank Smart

Freddie Gray

Freedie Blue

George Floyd

George Mann

India Kager

Jamar Clark

James Carney III

Jason Moland

Jerame Reid

Jeremy Lett

Jeremy McDole

Jermaine Benjamin

Jonathan Sanders

Junior Prosper

Keith Childress

Keith McLeod

Kevin Bajoie

Kevin Garrett

Kevin Matthews

Kris Jackson

Lamontez jones

Laquan McDonald

Lavante Biggs

Leroy Browning

Leslie Snapp

Lorenzo Hayes

Matthew Ajibade

Michael Brown

Michael Lee Marshall

Michael Noel

Michael Sabbie

Miguel Espinal

Natasha McKenna

Nathaniel Pickett

Norman Cooper

Paterson Brown

Philando Castile

Phillip White

Rayshun Cole

Reginald Moore

Richard Perkins

Roy Nelson

Rumain Brisbon

Salvado Ellswood

Samuel Dubose

Samuel Harrell

Sandra Bland

Spencer McCain

Tamir Rice

Tanisha Anderson

Terence Crutcher

Terry lee Chatman

Terry Price

Tiano Metron

Tiara Thomas

Tony Robinson

Trayvon Martin

Troy Robinson

Tyree Crawford

Victo Larosa III

Walter Scott

Wayne Wheeler

William Chapman II

Zamiel Crawford