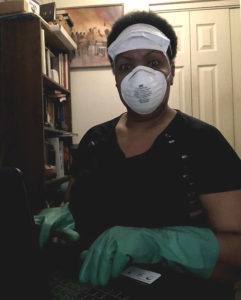 During times of despair, no matter how dire a situation looks, I choose to focus on the positive. I tell myself to travel in the light, not in the dark, to find humor in the most troubling situations even during a pandemic.
Darn the coronavirus. It's no lie that it has changed life as we previously knew it and I am sick and tired of hearing about it. I may have to give up my claim to being a news and political junkie and leave the TV turned off for a while because there's no escape. Breaking news reports about the pandemic has become more common than commercials about bladder leak and auto insurance. The mute button on my remote control is getting stuck from being depressed so often.
Aside from making people sick, this thing has everyone paranoid. Medical professionals are advising people to avoid physical contact and reiterating it so often that some people are acting like they are afraid to look at another person. Listen, people. Making eye contact with someone across the room will not infect you with coronavirus. Let me amend that statement by saying, not yet anyhow. Who knows? At any minute, a breaking news report could repudiate that claim. As of now, it is okay to look, just don't touch.
Last week on the Today show, NBC medical correspondent, Dr. John Torres, said that we are safer if we maintain a distance of at least six feet away from people. Since then, I've heard numerous other medical professionals mimicking his statement.
Among other things associated with the current pandemic, I'm particularly angry over the no-touch factor. Touch is the first of the five senses, and it is a basic human need. Research suggests that touch is fundamental to social bonding and health. Studies have shown that human touch can improve the immune system, reduce the heart rate, and lower blood pressure. They also reveal that compassionate touching is a good thing. That is until recently. Coronavirus arrived on the scene like a spurned lover straight out of fatal attraction, and it is releasing fury and creating private hells for people worldwide.
I'm a toucher and a hugger. I don't need a study to tell me that. It's who I am. Now, I have to retrain myself not to reach out and touch people, and to avoid touching my own face. Believe me when I say that it is a struggle for me to resist the urge to high-five or shake hands with an acquaintance or embrace a friend.
We are temporarily (let's hope that's the case) living in an altered reality. It's another so-called new norm among many new norms that have surfaced in recent decades. And it sucks.
Stores are bankrupt of essential cleaning and sanitizing supplies. Overburdened medical staff are setting up triage tents for testing. Businesses are temporarily shutting down. And some people are losing their minds.
This morning as I was out walking, I saw a couple approaching from about half-a-block away. The woman was wearing a hijab and an abaya. No problem. However, the person walking beside her (I couldn't determine if it was a woman or man) was wearing a blanket over clothing. Yes, I kid you not. A full-length, gray, grabbed off of a bed-covering blanket. It was wrapped around his or her entire body probably secured with safety pins or some other device behind the head. The blanket extended from beneath the person's eyes to below the knees of the trousers.
I struggled with the temptation to avoid pulling my camera out of my pocket to snap a photo of them before they got too close to me. But then I realized that I had reached my turn off point and veered in the direction of my home. As I said, some folks are losing their mind.
I am determined not to buy into the fear-factor, but I won't take foolish chances either.
Moments ago, I was sitting at my computer typing this post, and enjoying the breeze coming through an opened window, when I heard a male voice outside sneezing several times, so loudly that I thought he would blow out his lungs. The sneezes were followed by a brief coughing spell. Just as I jumped up to run over and close the window, I noticed that I didn't hear him hacking anymore. Perhaps he got into a car or went further down the street.
No sooner do I sit back down and begin keyboarding when I cough, twice. Dang it! For real? Where did that come from? I tell myself that it is merely a psychological response. I'm good. But then I hear a faint voice deep in my brain asking how long before symptoms appear after exposure, 7 to 14 days? Oh, hell no! Get out of my head. I'm not going there. I refuse to surrender to paranoia.
I just hope that before this mess is over, I don't run out of hand soap, cans of disinfectant spray, Lysol wipes, bleach and hand sanitizer.  Oh, and that precious commodity for the porcelain throne – toilet paper.