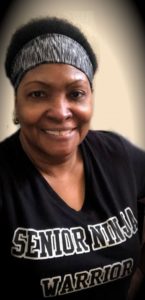 I see it. There, on the horizon. Another birthday approaching in a couple of days.
God rest your soul, B.B.King, but this septuagenarian won't need to play your upbeat Happy Birthday Blues song to lift my spirits. I'm good. My plan for B-Day is to express my gratitude to God for the blessing of seeing another birthday and then I'll take a moment to reflect on my birthday's past.
I've had some ho-hum birthdays when I did nothing to acknowledge the occasion except maybe draw a smiley face on my daily flip calendar and then turn the page. I also had some memorable birthdays like when my beau at the time treated me to a concert, dinner, or some other memorable event. (Eugene, I don't know if you are reading this or if you are even aware that I have an online journal, but if you are, I want you to know that I still remember when you took me to a small supper club. Unbeknownst to me at the time, you slipped the waitress a note to give to the club host. The host then announced from the stage that it was my birthday and pointed to our table. The clubgoers turned toward us and sang Happy Birthday to me. It was a beautiful gesture, and I don't know why I felt embarrassed, but I did. I just wanted to dissolve into a heap of chocolate in my chair faster than the ice melting in our drinks. But as you see, your thoughtfulness left a lasting impression because I still remember that unforgettable birthday evening.)
My earliest memorable birthday was my 16th. That was the only time I ever had a birthday party. It wasn't a budget-busting gala like some contemporary parents provide for their 16-year-old daughters. Mine was a small event. I remember the round cake bought from Posin's Bakery. It had "Happy Birthday Sweet 16" written on top in pink and yellow icing, encircled by 16 candles.
Along with the cake, we enjoyed Neapolitan ice cream, potato chips, and a few other party snacks.  The several friends who I invited, my siblings, and I celebrated the event in the basement of our family home, while my parents courteously remained upstairs.
We danced beneath pre-strung crepe decorations to the stack of 45 RPMs, which I had prearranged next to my dad's record player. The lineup included many of my favorite tunes:  How Sweet It Is by Marvin Gaye; Bettye Everett & Jerry Butler 's Let It Be Me; My Guy by Mary Wells; Baby Love by the Supremes; and You've Lost that Lovin Feelin by the blue-eyed soul duo, The Righteous Brothers. That was when music was music and not just a compilation of noise, grunts, and offensive language.
I, like other Boomers, grew up in The Vietnam War era when gas cost 30 cents per gallon, a loaf of bread was 21 cents, and a US Postage Stamp, 5 cents. The Beatles were taking the world and America by storm. I owned at least two of their singles; A Hard Days Night and She Loves You (yeah, yeah, yeah).
A talented young boxer by the name of Cassius Clay (he later changed his name to Muhammed Ali) won the boxing world heavyweight championship from Sonny Liston. The Civil Rights Act was signed into law, and Dr. Martin Luther King, Jr received the Nobel Peace Prize, but that didn't stop creative artists like The Last Poets and Gil Scott Heron from rapping politically charged lyrics about revolution.
Most pertinent to this lifelong Washingtonian was when the District of Columbia residents gained the right to vote in a presidential election for the first time. I remember that my dad was so proud to cast his first ballot. I don't think he ever missed voting during a single election after that.
So many birthdays, so much history.
Although listening to music was one of my favorite pastimes then (and it still is), when I could scrape together enough money, I enjoyed attending shows at The Howard Theater, usually with my best friend, Cookie. She and I laughed ourselves silly while witnessing the antics of rising star comedians like Flip Wilson, Moms Mabley, and Richard Pryor. Back then, theater seats were available on a first-come basis. Cookie and I would rush to get to the Howard an hour before the box office opened so that we would be the first patrons standing in line to buy tickets. After purchasing them, we would race to the front of the auditorium and grab seats on the front row. When the screening of the movie previews and a serial film was over it was showtime. We would scream and act-a-fool (as the old folks would say it) during live performances by musical entertainers like Chuck Jackson, The Temptations, The Four Tops, The Supremes, The Marvelettes and so many others.
Sometimes I spent Saturday afternoons at the Sylvan Theater. If I wasn't with Cookie, I went along with my parents and siblings. We enjoyed films like Imitation of Life, Sounder, and A Fistful of Dollars. By the time Blaxploitation films emerged, I was a bonafide movieholic and going to other movie houses in the city. I squirmed through films like Melvin Van Peebles's Sweet Sweetback's Baadasssss Song and cried at the end of Cooley High. (The latter remains one of my favorite films.)
So many birthdays. So many memories.
I've aged like fine wine. Over the years, the mature me has expanded my interests to include social activism and politics. Before writing these memories, I couldn't resist digging up some birthday trivial and I found this. According to the MyBirthdayNinja site, in my previous life (for those who believe in such), I was a publisher and scribbler of ancient inscriptions. (Isn't that interesting?)
No, you won't hear me singing any birthday blues, because I see every birthday as a journey. Another landmark. I will treasure every year and enjoy every mile because on each B-Day that I am blessed to be above ground; I will be older than yesterday, but younger than tomorrow.