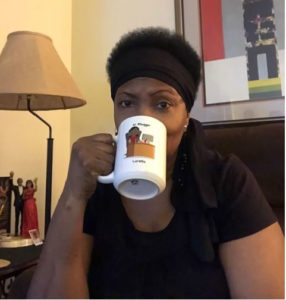 As soon as I get up in the morning I turn on my mister. (Not that mister. Get your mind right.) My Mr. Coffee automatic drip coffee machine.
Experts suggest that upon rising after a night's sleep we should drink water; at least 2 cups or one 16oz bottle. Water rehydrates the body. It also fires up the metabolism and helps the body flush out toxins. They further recommend that coffee lovers like me delay that cup of joe until an hour after we awake.
If you – like me – wake up thinking about coffee, you've got a serious case of coffee on the brain. We are bonafide coffeeholics. The good and bad of that is this. We may crave caffeine, but unlike addictive drugs, caffeine doesn't threaten our physical, social, or economic health. And as you may already know coffee has health benefits. (An hour is an excruciatingly long time to wait for that first sip).
On mornings when I go to the gym, water is my first drink of the day. I usually finish a bottle of it during my pre-dawn workout. Sip by boring sip. But on days when I don't exercise, all bets are off. Coffee is my go-to beverage. I like it freshly brewed and strong every morning. Sometimes I drink it black, or occasionally with a little cream, but never, ever do I add sugar. Confession – decades ago when I began drinking coffee, I could only tolerate it with 4-6 heaping spoonsful of sugar. Yucky! I know. I can't tell you how many times back then someone would flippantly say to me, "I see you take coffee in your sugar." I stopped that. Now, when I need a sugar fix with my coffee, I have a blueberry muffin on the side.
Coffee is one of the world's most consumed beverages, third place behind water and tea. Studies show that coffee drinkers have a lower risk of some serious diseases likely due to the high levels of antioxidants and beneficial nutrients in the beverage. Coffee improves various aspects of brain function and the body— including memory, mood, and energy levels. It increases fat burning and physical performance which is why some fitness enthusiasts drink coffee before working out. On the rare occasions when I drink coffee before exercising, I do notice that my energy level increases.
Studies also show that coffee drinkers have a lower risk of Parkinson's and Alzheimer diseases.
Black coffee is calorie-free. Anyone trying to lose weight should avoid the cream (or milk) and sugar (and probably the muffin, too).
Excluding bacon frying in a skillet, coffee is the next best thing to smell in the morning.
Cars need gas to run, and I need coffee. I prefer it hot, strong, and fresh. I occasionally drink java after it has cooled to room temperature, but hours-old or microwave reheated coffee not only diminishes the taste it's downright nasty.
I'm a frugal hometown girl so I rarely buy gourmet coffee, but I hear that some brands are so good they will make you jump up, click your heels together and spin in circles. Among the top five gourmet brands, you'll find La Colombe Corsica Blend, Peet's Coffee Big Bang Medium Roast and Death Wish Whole Bean Coffee. Billed as the world's strongest coffee, Death Wish is highly rated and highly caffeinated. It has double the caffeine of your average cup. One bag will cost you around $20.00.  You'll recognize the brand by the skull and crossbones on the package.
I have no taste for instant coffee so I'll skip it. I prefer to brew one of my favorite regular brands each morning from any one of two or three 12oz packages of ground that I keep on hand. Each cost around $7 or $8.
There are over 100 brands of coffee. Over the years, I have tasted many brands though probably less than half. Among those that I've sampled are Maxwell House, Folgers, and Gevalia, but my favorites are Dunkin Donuts (Hazelnut), Starbucks (Breakfast Blend Medium Roast) and Seattle's Best. Seattle's Best is currently my go-to brand. It's mild and delicious.
Let me share with you a mugful of more tips about coffee strength and coffee roast. Coffeeholics don't particularly care about stuff like this, but I'll tell you anyway. The ratio of coffee grinds to water during the brewing process determines the strength – the actual caffeine content – in a  particular amount of coffee. There are three main stages in roasting: drying stage, browning stage, and development or roasting stage. Light roast coffee is mild. Dark roast is bold. Many dark roasts are used for espresso brands. Medium roast and medium-dark – medium brands are not too light, not too bold. Breakfast blends can include different types of coffee beans and different sorts of roast levels. Like medium brands, blends are not too strong and not too weak.
Decaffeinated coffee – forget it, drink water instead. I mean without the caffeine, what's the point? Coffee minus caffeine is like Christmas without carols, a beach without an ocean, a popsicle without the stick. Clearly, I dislike decaf coffee and that's that.
Take note coffee lovers. To maintain freshness and flavor, packaged coffee must be kept away from moisture, heat, light, and strong odors. Refrigerating it is not a good idea because moisture will quickly deteriorate its quality. Instead store your package (especially after opening) in an airtight ceramic, metal or plastic container until needed.
As I see it, coffee tastes better when drinking it from a ceramic mug instead of a Styrofoam or paper cup.
That's my spiel on the brown beverage. Stay grounded and take time to smell the coffee.