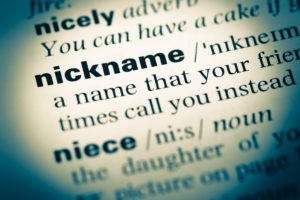 "What's in a name? That which we call a rose by any other name would smell as sweet." William Shakespeare (Romeo & Juliet)
Honey. Sugar Pie. Dork. Nicknames. That substitute moniker is sometimes assigned to people, places, or things instead of their given name. The habit of nicknaming people has been around for centuries, and those nicknames are popularly used. A nickname is acquired at any age, and often there is no code to crack. Some people get nicknames in childhood and retain them for life. Others eagerly shed them when they become adults.
My mother's nickname for me was Lo. When I was in high school my best friend called me Retsie. Don't ask, because I don't know how my friend came up with that, but it was unique.
Do you have a nickname? What's yours?
I've compiled a list of nicknames of some of my family members and friends. Some of them I easily recall. Others were reluctantly shared with me with the promise that I would not reveal their identity.  We have:  Andre, Bay-Bay, Big Bro, Boot, Bootsey, Buddy, Butch, Chico, Cookie, Crutches, Froggy, Jo-Jo, June Bug, Kip, Kippy, Little Bro, Min-gin, Moose, Nita, Peanut, Pickles, Po boy,  Pooche, Rai Rye, Sain, Skeet, Skip, Toot, and Whimpey. Initials as nicknames are also popular. AJ, CJ, DJ, JD, JJ, JR and RJ immediately come to mind. Raise your hand if you recognize your nickname. Don't be shy; no one can see you through the screen.
Nicknames are so commonly used that sometimes a person's given name is unknown. Even family members who have for a lifetime heard a relative called by a nickname might not know the person's first name. For instance, when my son was born, I named him Kyle. I didn't know until days later when my mother said to me, "You know that's your cousin's name." "Which cousin?" I asked. "Your cousin, Kip's name, is Kyle." Who knew? I surely didn't because throughout my life I had only know him as Kip.  One day, I was discussing my name blunder with Kip's mother, my Aunt Ida. "I just liked the name," I told her. "So do I," she said before telling me that she was thrilled that I had chosen that name.
Nicknames are often given to denote familiarity, kindness, or to show affection. Take "Boo" for instance. It is usually a term of endearment that signifies love. It is also one of the most common nicknames bestowed on anyone from a loving companion, to a dear child, to a BFF (best friend forever).
Sometimes nicknames substitute for traditional titles. Like grandmother. I know people whose grandchildren call them, Nana, Ditt, Gram, Grammy, and G-Mom. I've always preferred the standard "grandma" but grew used to my grands when they were toddlers calling me GeGe (pronounce as if you were saying GoGo, only substitute the o with an e). Occasionally, one of them still refers to me as GeGe. And I love it!
Many people are stuck with nicknames given by family, friends, or frenemies. Some people are fond of their nicknames. Other's detest them. One of my childhood playmates was nicknamed Weegee (pronounced like Ouija Board). Her family and all of the neighbors called her that. Although she answered to it, I always felt that she didn't like the handle. I never did learn her real name.
Colors are popular nicknames. Most of us have known people whose nicknames are Black, Blue, Red, Rose, Pink, and Whitey.
Famous and infamous people have strange and sometimes embarrassing nicknames. Caryn Elaine Johnson has an interesting story about how she flatulently gained the nickname, Whoopi. The man we call Tiger Wood's birth name is Eldrick Tont Woods. And who doesn't refer to Jennifer Lynn Lopez as J.Lo? Many Baby Boomers remember comedians John Elroy Sanford as Redd Foxx, Loretta Mary Aiken was Moms Mabley, and Durham, North Carolina native Dewey Markham whose fans affectionately remember him as Pigmeat Markham. Perhaps most prominent among this group of well-known people was the man whose birth name was Malcolm Little. He had several nicknames over his lifetime:  Red, Detroit Redd, El-Shabazz, El-Hajj Malik , but he was widely known as Malcolm X.
Back in the day, Al Capone's moniker was 'Scarface.' Mobster Benny Siegel was called 'Bugsy.'
Even presidents are not spared nicknames. Some of his activities as a young man, a circuit lawyer, and eventually president of the U.S. earned Abraham Lincoln the nickname Honest Abe. Richard Nixon, infamous for Watergate, carried Tricky Dick to his grave. Beloved President Barack Obama was bestowed the name Barry O'Bomber by his high school basketball teammates. I am prudently self-censoring the nicknames for the current president.
By the way, Ludicrous is the nickname and stage name of the rapper/actor whose real name is Christopher Brian Bridges.
Whether you hold on to and cherish a nickname or shed it, remember William Claude Dukenfied aka W.C. Fields said, "It ain't what they call you, it's what you answer to."