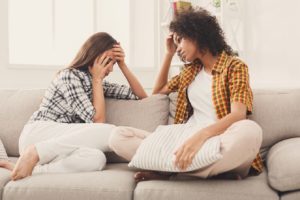 Who hasn't heard the trendy expression, "I heard it through the grapevine?" Reportedly, the phrase originated in the U.S. and dates back to the mid-1800s, before the Civil War. Anyone with half-a-brain knows that the saying has nothing to do with actual grapes or grapevines.
In grade school, we played a game called pass-it-on. You may have played it, too. Supposedly, it was to improve listening skills. One person starts the game by thinking of a short phrase. He or she then whispers the phrase into the ear of another person. That person whispers it to the next person and so on. The last person says aloud what they heard whispered. Often it is nothing like what was said by the first person.
Hearing something on the grapevine could be said to be the adult version of pass-it-on. We get second and third-hand information through an informal means of communication instead of getting it directly from the source. Just like in the elementary school game passing the info along the grapevine could possibility garble the facts, making them vicious gossip, ridiculous, or it could be true.
Gladys Knight and Marvin Gaye found the grapevine so revealing that they sang about it.
And I think that some of you would agree that the only thing more intriguing than receiving juicy information about a friend or neighbor is learning what's circulating on the family grapevine.
From the time I was old enough to eavesdrop, on adult conversations, I learned – little to naught from the family grapevine. (Gotcha' didn't I?) Now that I'm older, I know that some of my immediate and extended family members hold on to trivial information like it is classified "top secret and confidential" by the federal government. It's possible that if your close relatives, even your cousin or your cousin's cousin tells you about a family incident of which you previously knew nothing, she or he heard it on the grapevine and could hardly wait to share the news. What was learned could be a complete fabrication or there might be a smidgen of truth to it.
For those lacking half-a-brain, I'll give you an example of hearing something on the grapevine. Understand that any similarities in names to people who you may know is strictly coincidental. Meaning, unless someone has a secret nickname that I don't know about, I've made up all of the names in the disclosure below to protect the guilty.
My much younger friend, I'll call her Bea, shared this with me. Watching Bea, always the drama queen, tell her version of the story was like having a front-row seat at a theater.
"Girl," she said, flinging one hand in the air. "Iris told Hazel Nutt, Hazel Nutt told June Bugg, June Bugg told Anal, Anal told Lilly Pond, Lilly Pond told Hyball, and Hyball told me that Judeene's second cousin's four-year-old son Bobo used his tablet to spell a four-letter word. And the word was not fork. You hear what I'm saying?"
She continued. "No big deal, right? Word is that one day while his mama was at work little Bobo was playing for the first time with Rosebud, the eight-year-old daughter of his daddy's ex (she loudly clears her throat) girlfriend. They were visiting the girlfriend's house. When the adults went into another room, Rosebud taught Bobo how to spell the word on his tablet. Later that evening, when he was back home, Bobo pulled his tablet from his backpack and proudly showed his mama the new word he had learned that day.
In the middle of saying, 'Oh, how nic…' Bobo's mama stopped mid-sentence and asked her son where he learned that word. When he told her, 'At Mimi's house.' His mama looked at her husband, who was sitting on the sofa and turning 50 shades of dark. Then, she cocked her head to one side, narrowed her eyes and sounding like the little girl in The Exorcist said to him, 'Mimi?' Need I continue? Girl, now don't you tell nobody that I told you this, 'cause you ain't heard it from me."
But I did tell. And I just told all of you. That, my friends, is how a story is carried along – and is heard – on the grapevine.