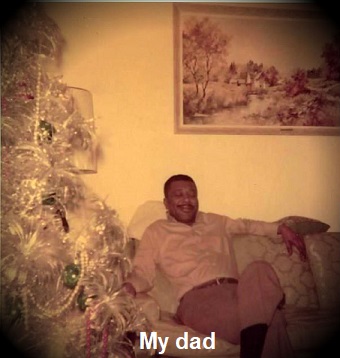 Merry Christmas!  Feliz Navidad! Happy Kwanza! Joyeux Noël! Fröhliche Weihnachten! No matter how you say it, when it comes to Christmas time, celebrating the holidays is a long tradition.
Christians say that Jesus is the reason for the season. Skeptics merely see the holidays as an occasion for exchanging gifts. And some folks will tell you that they "don't do Christmas" at all. Whether or not you celebrate Christmas and all things associated with it, including Santa Claus, that's your prerogative. And since this is my soapbox, it's also my prerogative to add that if you don't celebrate Christmas there is no need for you to be a killjoy for those who do.
I miss Christmases back in the day when I was a child. And yes, my parents let my siblings, and I lend our imagination to the myth of Santa Claus, the tooth fairy and other fantasies that many of today's contemporary parents consider taboo.
There was one Christmas season that occurred during my adulthood that brings up a sour memory. It was an unhappy experience, but all of my pleasant Christmases before and since then, make up for it.
As I am writing this, I am listening to Christmas music. Nothing takes me spiraling down memory lane to Christmases past faster than when I pull out my stack of Christmas CD's, especially the oldies like The Ultimate R&B Christmas, Volumes 1 and 2 and The Temptations Give Love at Christmas. I've had those CD's for more years than I can remember. Songs like Do You Hear What I Hear by Gladys Knight and The Pips and Donny Hathaway's This Christmas. OMG! Those tunes envelop me in nostalgia and send me to Christmas heaven.
Let me share some of my childhood memories of Christmases past.
Days before the holiday, I'd sit near mother and watch her write lots of Christmas cards which she'd later send to relatives and friends. Sometimes she would complain about the cost of a first-class stamp, which until 1958 was 3 cents, but it didn't stop her from sending cards.
Back then (before global warming) the Christmas season was usually cold, with temperatures averaging 34˚F. And some years we even got snow.
When dad and mom could scrape together enough money to buy a live tree, dad would take the 10-minute walk from our home in LeDroit Park to the Christmas tree stand in front of the Safeway on 1st and Rhode Island Avenue and buy us the biggest Christmas tree that he could afford (which usually wasn't very big because he couldn't afford much). Years later, when we kids were older, my folks thought that artificial trees were the way to go. But, in the meantime …
My three siblings and I would delight in helping mom decorate the live tree. The first thing to go on would be colorful string lights with bulbs that screwed into sockets. The lights were wired in a series so that if one bulb was out, none of them would work. We had to plug the string into an electrical outlet and keep changing out bulbs in the strand with extras until we found the bad one. And then, whallah! The string would light up.
Fragile glass bulbs, red, blue, yellow and silver, went on the tree after the lights. Sometimes we'd accidentally drop a bulb on the hardwood floor, shattering it. Oops! After all the bulbs were placed, we'd toss thin strips of foil icicles onto the limbs, and our tree would glitter.
Mom frequently reminded us to keep water in the cup of the three-legged metal stand holding the tree so that the tree would not dry out because those old bulbs could get hot and set the tree on fire. For years, we had live trees. If I close my eyes now and concentrate, I can almost smell the fragrant pine that permeated throughout our living room. Aside from the pleasure of a live tree, as anyone who has had one knows, the downside to it is cleaning up all of the fallen pine needles.
After we decorated the tree, mother set a bowl of mixed fruit and nuts on the coffee table. A finishing touch.
Usually, Christmas dinner would be a fantastic meal like we didn't normally have. Mother could burn! (Translation – mother was an excellent cook.) A turkey packed with homemade stuffing or a juicy ham topped with pineapple slices and red cherries was a luxury. The smell of cloves stuck in the ham mingled with the aroma of collard greens and ham hocks, corn on the cob or corn pudding, candied yams, and brown and serve rolls was so mouthwatering that even the kitchen walls seemed to salivate in anticipation of our family feast. Sometimes there would be a side dish of carrot salad with raisins, and usually some kind of pie for dessert. And our beverage back then – what else, but Kool-Aid. Mother's Christmas feast was to die for.
After we all pigged-out, we kids would take a break from playing with our toys and we'd gather in the living room, around our only TV set, an old floor model, black and white RCA, and watch Christmas specials. Frosty the Snowman, Charlie Brown, and Rudolph, the Red-Nosed Reindeer were some of my favorites. And if memory serves me correctly, sometimes my other favorites, musicals like Peter Pan or The Wizard of Oz aired during the holiday season.
Some years, my folks would load us kids onto the DC Transit bus and take us downtown to see the animated Christmas displays in the windows of department stores like The Hecht Company and Woodward and Lothrop. Or if money weren't too tight, we would take the train down south and spend Christmas visiting my grandparents and other relatives.
I remember one year, I might have been around 10-years-old, my Uncle Henry drove us to North Carolina and as we were coming back home, it was snowing heavily. Huge, thick, beautiful snowflakes like you would see in a Thomas Kinkade Christmas painting blanketed the landscape. As Uncle Henry's old station wagon crawled along the unplowed highway, it seemed that every time we blinked, we would see another car stuck along the roadside. Sometimes one of us silly kids would say, "I hope we get stuck."  In our naivety, we simply saw an opportunity to play in the snow and delay the trip back home. Nevertheless, my mother's prayers and Uncle Henry's skillful driving brought us back home safely.
Till my dying day, I hope to maintain the many, wonderful Christmas memories from my childhood.
Unfortunately, when I look at today's world when Christmastime is dimmed – like other times — by so much evildoing and horrific tragedies, I am reminded of a line I read recently in The Blaze Newsletter, "Such memories fill us with joys in a brutal world ever more joyless."
Still, my Christmas wish for all the children of the world today is that they will compile beautiful memories of Christmastime.
And for all my blog readers, I wish you peace, joy, love, and a very Merry Christmas!