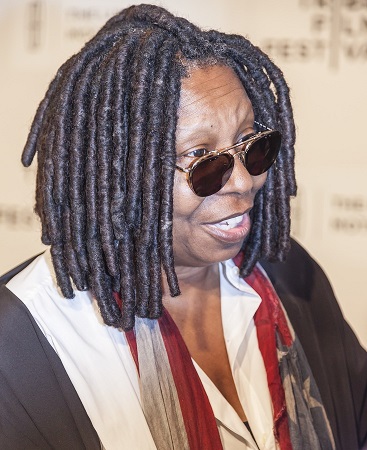 I am a huge fan of Whoopi Goldberg. Followers of my blog may recall that seven years ago I wrote a post candidly expressing my concern about Whoopi's disheveled appearance on the TV talk show, The View. Undoubtedly, owing to my self-consciousness about appearance, I didn't hesitate to brazenly offer my opinion that Whoopi should dress more appropriately for her job, like the program's other co-hosts.
The odds are at least 20 million-to-one that Whoopi never saw that post and if she did her response would likely have been, "Who did you say wrote it? Loretta who? Who the hell is that?" before curling her lips and rolling her eyes. Nevertheless, my candor did not thwart a phone call I received months later from the program's Audience Services Department, offering tickets for me and some friends to attend the show. Unfortunately, due to bad timing, I couldn't attend. Being unable to accept that offer has been one of the biggest regrets of my life.
Getting back to why I admire Whoopi. If you didn't know who she is (Who doesn't?), and you happened to see the dreadlocks wearing, New York native walking on the street near her 8-bedroom, 9,486-square foot mansion in a gated New Jersey community, you might think that she was out of place. A vagabond, perhaps. Of course, you would be so far from wrong you couldn't see daylight at high noon.
Nearly every celeb-watcher and anyone who knows about Whoopi knows that she is one of the entertainment industry's finest. Aside from being strongly opinionated (a commonality that we share. You think?), she is highly intelligent and well-read. When she speaks her mind, she doesn't hesitate to make it known that she doesn't give a hot burp what other people think of her. And need I add that the numerous award-winning actress, comedian, author, activist, moderator and co-host of The View also has a star on Hollywood Boulevard? Kudos to this woman who is not afraid to be herself. She has her own style of dressing and living and doesn't care whether we like it or not.
I'm just saying — if ever there is a perfect example of not judging a book by its cover, Whoopi is it. And who knows (I say tongue-in-check) perhaps my quasi-apology will bring me another ticket offer. Time will tell.
By the way, if you would like to take a peek inside Whoopi's home view the Slideshow.