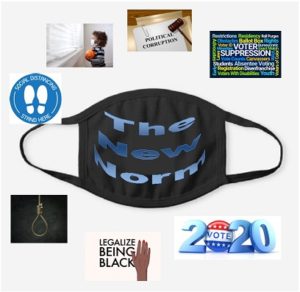 My earbuds are in place, and I'm listening to Bobby Womack croon, "I'm looking for a love."
Not me, Bobby. I've got love. I'm looking to laugh again. I want to rediscover humor in a country blanketed under a cloud of gloom.
Anxiety simmers everywhere. I rarely hear anyone laughing anymore. I'm not talking about a forced smile or a polite chuckle. I miss the shoulders jiggling, head thrown back, falling in the chair laughing. I haven't laughed like that in a long time and rarely see anyone else doing it. But I hear a lot of people saying, "I'm tired." Not tired like the exhaustion you feel after a long workday at the office. It's mental fatigue. Enough-is-enough. Sick of the existing state of affairs tired.
My list of tired is long. I'm tired of hearing about social distancing and the coronavirus death toll. Tired too of sheltering in place because going outside means dodging unmasked people and avoiding crowds. I'm tired of anarchy and criminal politicians – rotting from the head down. I'm tired of reports of voter suppression. I am sick and tired of seeing numerous newscasts and amateur videos of black people getting beat down or killed by rogue cops. I am mentally exhausted from seeing unprovoked injustices against the same people for driving, walking, working, living – while black. I'm tired of reading incredible reports about black people found hanged in public places, and their death ruled a suicide. I'm tired of seeing non-violent protesters attacked by goon squads and racist hatemongers because the activists rightly believe that black lives matter.
I'm tired of being tired. I need to get my laugh on. Reset my funny bone.
I used to have a good sense of humor; don't know when my funny side slipped away like a runaway bride. I woke up one day and realized that finding something to laugh about in a topsy-turvy society is difficult. Experts say that humor keeps us psychologically healthy, so I often remind myself of the words of Maya Angelou, "Continue to allow humor to lighten the burden of your tender heart."
I want not to be tired. I want to laugh freely again. I want normalcy. To hell with the so-called new norm. I long for a return to normalcy as it existed half-century ago before people began questioning, "What is normal?" If half-a-century is a stretch, then I'll settle for normalcy as it was before 2020, better still before 2016.
I know I am not alone. Every God-fearing person I know is as tired as I am of the status quo. We all want to feel untired. We want to relax and laugh again.
I believe that eventually, things will get better. Scientists will discover a vaccine for COVID-19, and November 3 could bring hope for a major overhaul in January 2021. That would surely give us something to laugh about.
I am a realistic optimist. I realize that a nightmare scenario could recur on Election Day. (God forbid!) So, I'll wait until the final count is in, and refined people have reclaimed the building at 1600 Pennsylvania Avenue. And then, to paraphrase a favorite hymn of mine, I won't feel no ways tired, 'cause you'll find me at Lafayette Square, aka BLM Plaza, laughing my ass off while doing a happy dance.