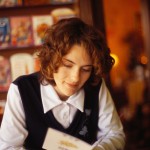 Like the loss of civility, the personal touch seems to have vanished from our society. Once upon a time conscientious mothers' – mine included – taught their children that it was not only common practice to send a thank you note for a gift received, but it was downright rude not to do so. How times have changed.
Over the years I, as well as many of my friends have compared notes and learned that we have sent birthday gifts, wedding gifts, graduation gifts, and even sympathy cards containing cash to various friends and relatives, and we received nothing in return. Not a thank you note, nor a phone call; and as impersonal as it is — even an emailed "thank you" would have sufficed. An act of consideration deserves to be acknowledged.
We all have busy lives, but we make the time to do what we really want to do. As far as I am concerned, sending an email recognizing an important occasion in someone's life or extending thanks for a card or gift that was sent to you is a kind gesture, but it is not quite as nice as taking the time to purchase and mail something tangible, especially if you are reciprocating for the receipt of an item that you received.
As Judith Newman wrote, "In a world where thoughtfulness is increasingly rare, any acknowledgement of gratitude is a very good thing." To that I add — but there is nothing like reaching out and touching someone with the real thing.