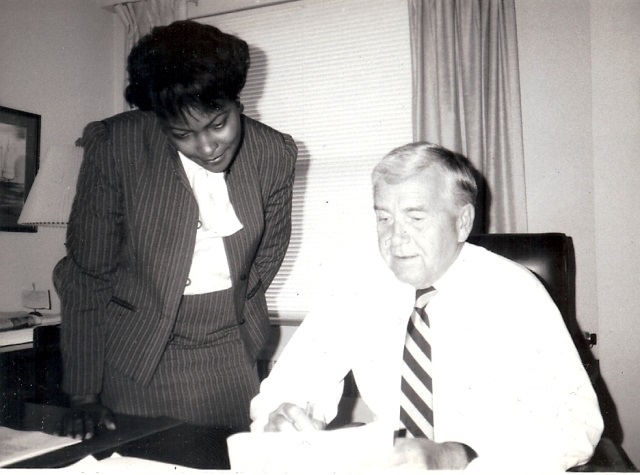 My first time going to the Capitol building was in the 1980s. I was charmed by the splendor of the place and was no less enchanted each time I went there after my initial visit. Unlike some of my acquaintances who worked in Capitol Hill offices, I did not, nor was I ever a tourist. And I certainly wasn't part of a mob of homegrown terrorists like those that swarmed the place on January 6. I was there on official business.
For 13 years, I worked in the K Street corridor as a staff assistant for two different lobbying firms (or as the head honchos prefer to call them Government Affairs offices). For the majority of my ten years with the initial association, our office was located on the same block as what is now known as Black Lives Matter Plaza. In addition to other duties, my gofer responsibilities required periodic trips to the Capitol to deliver official papers or PAC checks, retrieve copies of bills from the Senate or House document rooms, and occasionally attend Congressional committee hearings.
After showing my work ID card to the Capitol Hill police officer and going through the security screening process, I would be allowed inside the building and, if necessary, given directions to the destination office.
Sometimes while walking past the rows of offices in the pristine hallways of the historic building, I'd think about the enslaved blacks who played a significant role in erecting the structure. I took pride in knowing that numerous black legislators, many of who may have been descendants of slaves, were holding positions of power in the Capitol, or they had been there and left their legacy.
During my years of working in the political arena, I embraced some notable lawmakers as my she-roes and heroes: Congresswomen Shirley Chisholm, Barbara Jordan, Bella Abzug, and Diane Feinstein. Representatives William (Bill) Gray, III, Kweisi Mfume, John Lewis, Bobby Rush, and Daniel Moynihan were also on my most admired politicians list. I never had the opportunity to meet any of those previously mentioned except one. When our Governmental Affairs office held its annual legislative reception, I met Moynihan, Senator Ted Kennedy, and others who slip my memory. I would eventually meet Speaker John Boehner, a good friend with one of the firm's vice presidents.
There was one brilliant and charismatic politician who I admired above all others. Not only did I meet him, he graciously posed for a picture with me. He was the Illinois State Senator who would announce his intention to run for president within months after our meeting. He ran. He won. And I will forever treasure my photo taken with Barack Obama.
Few people know that beneath the seat of government, the legislators have a private subway. The Capitol Subway system connects the Capitol with Senate and House office buildings. I had the opportunity of riding the train a few times back then. Since then, the system has been significantly modernized.

My reflection of better times brings me to the shocking and disgusting event that occurred at the Capitol on Wednesday. I never thought I'd see anything like it in my lifetime, radicals busting through doors, breaking windows, climbing over balconies, hanging on the walls, and trudging devilishly through the galleries.
People worldwide watched the insanity on their televisions as mobs of MAGA cult members and insurgents breached the Capitol building. I could visualize Putin, Kim Jong-un, and Xi Jinping enthusiastically wringing their hands, grinning madly, and chomping at the bit.
I cannot end this post without mentioning something that has occurred to countless people, including me. I have expressed this on my social media page, as have numerous other people. We know, WE KNOW, that if Black Lives Matter or any other black organization had breached the Capitol as the MAGA cult did, the outcome would have been very different. I can imagine the Capitol columns blemished with red splotches and rivers of blood streaming down the steps. Instead of five dead white people, there might have been 500 black corpses scattered all over the property. There wouldn't be enough body bags in the city to handle the carnage. My opinion on the body count may be extreme, but fair-minded Americans will agree with the premise. Even President-Elect Biden acknowledged as much during his news conference on Thursday.
For the rest of my life, memories of the times I spent on Capitol Hill will be tarnished by the horrific event of January 6 because I cannot erase the scenes from my mind.
My condolences to the family of Capitol Police Officer Brian D. Sicknick who lost his life during the lawlessness and mayhem on January 6, 2021.