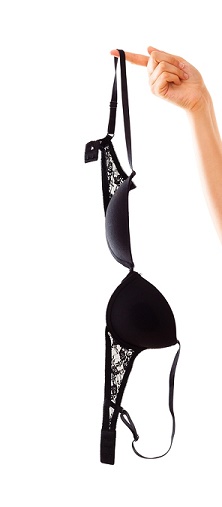 Let me put this right out there and say that I hate wearing a bra. Bras might be a sensual turn-on for men, but they are the ultimate torture garment for women. They pinch and poke. They're uncomfortable and constricting. The first thing you want to do when you take it off is vigorously scratch those girls. And based on conversations had and overheard, I'm not the only female who has a hate-hate relationship with bras.
Whoopi Goldberg would agree with me. I've heard her say, countless times, on The View,  that she hasn't worn a bra in over 40 years. I don't understand why she feels the need to disclose that personal information to a national television audience, but I can relate to why she ditched the darned thing.
Some of my girlfriends and I have shared bra horror stories. One thing we all agree on is that there is nothing more disappointing than investing $40 or more for a bra that rides up, curls over, shifts around, and advertises the back fat.
Buying a bra can be as stressful as wearing one. Women who dislike wasting money with the trial and error process can get assistant from a bra fitter. Tape measure in hand, she is often available to measure you in stores like Victoria's Secret or Norstrom. Or you can measure yourself at home. There are Internet sites that provide instructions on how to determine your bra size. But be forewarned, doing it yourself and getting the right measurement is not always as easy as A, B, C or double D.
Although finding a properly fitting everyday bra is a challenge, sports bras are a whole other strangulation. You read it right – strangulation. If you ask me, I believe that sports bras are designed primarily for smaller women. For the more endowed, and depending on the type of sports bra you choose, you almost have to be a contortionist to pull that body-hugging, stretchy thing on and off. I almost choked myself to death one day when my arm got stuck while trying to pull a newly purchased sports bra over my head. Although the SBs with a front zipper or some other clasp is easier to put on, I would stand a better chance of jogging on an icy sidewalk than finding a sports bra that fits.
Strapless bras are equally problematic. Recently, I bought a dress to wear to a formal event. The design of the dress requires a strapless bra. Going braless was not an option for reasons that (unlike Whoopi) I will not discuss. So, I bought a strapless bra. In fact, I bought two different types, betting that at least one of them would work.
At home, I took the bras out of the packaging and tried on each; switching back and forth between the two, and struggling for much too long before making a decision. The scenario went something like this:  I put the bra on, struggled to fasten the first set of hook and eyes in the back – it didn't fit right. I undid the fastener and then tried the second set of hooks. Somewhat better, but still not quite the right fit. I then tried the third set of hooks; exhaled, mission accomplished. Or so I thought until I faced the mirror and realized that my bust looked too Dolly Parsonish if know what I mean.
Then, I put on a "test" blouse over the bra. After twisting my body from side-to-side and wildly raising my arms in the air like I just didn't care (I was reaching that point) I realized that the bra band curled up on the sides. Also, when I lowered my arms, and looked in the mirror, the bra made it look like my bosom had tripled in size and was hoisted up close to my collarbone. Dolly Partons on steroids – no thank you. I took that thing off, threw both bras into a bottom drawer along with other castoffs, and resolved to wear one of my regular bras regardless of the visible bra straps.
The variance in size, shape, and types of bras adds to the difficulty of purchasing a well-fitting bra. Studies including one by the University of Portsmouth claim that 80-85% of women wear the wrong bra size. While researching this subject, I also came across this interesting statement "Most women assume that a B cup on a 34 band is the same size as a B cup on a 36 band. In fact, bra cup size is relative to the band size, as the actual volume of a woman's breast changes with the dimension of her chest."  This is quite evident when you gain or lose weight.
The bottom line – or more fittingly, I should say the top – is that regardless of why a woman chooses to wear a bra – whether for functionality or fashion, in spite of the cute little bows and lace, many women find bras uncomfortable.  Some people even believe that bras are a health hazard.
In September 2012, I published a blog post (titled For Women Only) about bra-wearing. My essay received comments from Sydney Ross Singer. He and his wife, Soma Grismaijer are a medical team that has done research and frequently written about the potentially harmful effects on women who wear bras. They claim that bras cause breast cancer by restricting the flow of lymphatic fluid. Singer wrote on my website, "When you realize that the chronic constriction from bras is the leading cause of breast cancer, the bra image issue is irrelevant . . . Bottom line — bra-free is much better than breast-free."
The bottom line for me is that I simply hate wearing a bra and I prefer and enjoy the freedom of being braless – in the privacy of my home.