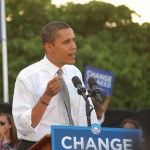 Dear Mr. President,
I, like many of my friends, was disappointed to hear you publicly announce your support for gay marriage. This is not an anti-gay commentary and it may sound hackneyed when I say that I have gay friends, but I do. Perhaps it is because of those friendships that I better understand how homosexuals feel about entitlement, civil liberties and why gay partners want to marry to have the same rights afforded heterosexual married couples, but just as they have their opinion I have mine and I cannot in good conscience support same sex marriage. As much as I resist agreeing with Mitt Romney on anything, I share his belief that marriage is a union between a man and a woman.
The current issue of Newsweek magazine features you on the front cover with a rainbow halo above your head. Unlike many people I know, I do not believe that your "coming out" on the matter of gay marriage was sincere. I think it was simply a calculated move to garner additional voter support. Newsweek, with a similar objective of outselling their competition, capitalized on your statement by publishing the ambiguous headline identifying you as The First Gay President.
Our culture puts so much emphasis on conformity that some people are afraid to publicly express a difference of opinion, even — and especially — political leaders, some of whom would sell their soul for the sake of winning votes. For that reason, Mr. President, with all due respect, I honestly believe that you merely yielded to pressure.
I can't help but wonder whether you would have taken the same position if you had decided not to pursue a second term in the White House. We all know that it is impossible to please all of the people all of the time and obviously not everyone agrees with everything. While you have apparently gained favor with citizens who support your position on gay marriage – possibly a number of who did not even vote for you – I'm sure that you know you have disappointed scores of your staunch supporters.
Regardless of the difference of opinion, many of us have been with you from the beginning and will remain for the long haul, primarily because we believe that overall you have done an excellent job as Commander-in-Chief, especially considering the divisiveness of some of your colleagues who have gone to great lengths to thwart your efforts to generate change. So, good luck, Mr. President, as you pursue a second term and God bless you and your family.