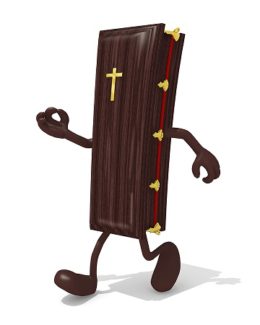 For as long as I can remember, starting in my childhood, whenever a family friend or relative died my mom would send the family of the deceased a sympathy card. More often than not, it contained money. I never knew exactly how much she included with the card. I suspect it may have been a small amount, maybe 10 or 20 dollars. It might have been more; depending on what our family budget at the time would allow. Nonetheless, I recall that sometimes mom would write a brief message on a thoughtfully selected card and then set it aside without sealing it. When I would ask, "Aren't you going to mail it?" she would usually say something like, "I can't seal it yet. I've got to put some money in it."
During my childhood, it was easy for me to understand why someone might include money with a birthday card. It's a nice gift, especially for a youngster. Over the years, I received some such cards containing a few dollars from my parents, grandmother, a few favorite aunts, and uncles. I even recall occasionally getting a coin slot birthday card with dimes or other coins appropriately placed inside the card. (Are those still being manufactured?) Nevertheless, whenever I learned that someone we knew had died, my young mind went back to wondering why people include money with a sympathy card. And I would naively ask myself, "Is it to make the survivor feel better or the sender?"
When I became an adult, like numerous other benevolent deeds I learned from my mother; I followed the tradition of including money in a sympathy card for close friends and relatives. And although I have discovered that this is an ongoing custom observed by many people; the question of why do it has never left my mind.
As with other lessons learned while growing up, I came to understand that the planning, preparations, and costs for funeral services can be overwhelming; so including money with the sympathy card might help ease the financial burden on the bereaved, especially when there is no life insurance policy. But sometimes the devil's advocate in me thinks that the practice is sacrilegious. And I realize that it sounds devilish to say what I am about to say (so I genuflect and cross myself before continuing), but — it's like putting a value on the worth of the deceased.
The intent of some givers might be that their donation could help defray funeral expenses, buy flowers, or purchase food for the repass. I get it. As I said, I almost always include money with a condolence card out of habit, and each time I do it I ask myself the same question:  Why do we do this? This issue of whether it is proper to include money in a sympathy card has weighed on my mind for many years, so I decided to research the subject. What I discovered during my investigation and an unofficial survey, which included questioning some friends, is that as with most things, there are two schools of thought.
While many Protestants, Catholics and members of some other religions do it, the evidence is not conclusive. Opinions differ among people in various ethnic groups and communities.
Some people consider including money with a condolence card inappropriate or downright insulting. Instead, they donate to a charity in memory of the deceased, send flowers or simply send the family a card, sans a check or cash.
In a 1998 column in the Chicago Tribune, Ann Landers, (remember her) wrote that "Money or checks NEVER should be included in a card or letter of sympathy."
To the contrary, in a 2007 NY Daily News Column, Harriette Cole, former creative director of Ebony magazine, lifestylist, author and branding coach of entertainers, entrepreneurs and business professionals wrote: "I think it's perfectly fine to do so… If you are discreet."
The jury is out on this one. As with every other issue, people have their own strong opinions. Some say it is inappropriate to send money. Others see nothing wrong with it. All-in-all, it is a personal decision. Whether or not to include a monetary gift with a sympathy card to help with funeral costs or simply as a kind gesture is up to the giver.
Trends change. People live and die. And life goes on.