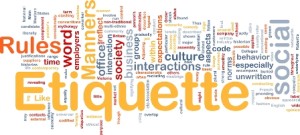 "Say it forget it; write it regret it." My first time hearing those prophetic words was when Judge Marilyn Milian spoke them on The People's Court. Everyone – especially socialmedialites – would be wise to remember them.
According to the Pew Research Center, as a baby boomer, I am in the lower percentage of social media users. Pew also accurately points out that although I have accounts with Twitter and other social media sites,  Facebook is my website of choice.
This blog subject could be applicable to nearly any social networking site, because online or Internet etiquette (sometimes called netiquette) should be as second nature to well-mannered people as brushing your teeth. And while there are undoubtedly more people practicing good dental hygiene than there are displaying bad online etiquette, you can bet you floss that the latter are gaining ground.
Regularly visiting my Facebook page is as routine for me as going to the gym. And I post often. Sometimes several times a day. I prefer posting positive, motivational and inspirational information, and humorous things. As a news junkie, I frequently share articles about current events. And like many of my FB friends, once in a while I'll toot my own horn by posting a photo depicting some activity I'm involved in, but I dislike doing selfies and you will rarely see me post one. What I enjoy most is engaging in wholesome conversations with my cyberfriends, just as I do with friends and acquaintances off line. I am no fan of trivial conversations, but I find them easier to deal with than the one thing that is obvious and disturbing — incivility. It is just as prevalent online as it is in the physical world.
In face-to-face contacts we are often able to determine from body language, facial expressions, and vocal inflection if someone is understanding – or misunderstand us; agreeing or disagreeing. Such nonverbal communication is nearly impossible to interpret online.
William Shakespeare wrote "A fool thinks himself to be wise, but a wise man knows himself to be a fool." Gender-consciousness aside, my translation of that wisdom is that no one knows everything and we all can learn something. There was no Internet in Shakespeare's day, but I see his statement as profoundly relevant to Internet etiquette. That's why I am sharing these Eight Rules for Practicing Internet Etiquette. I think of them as words to the wise. Whichever shoe fits, wear it.
Respect.  Good manners and respect go hand-in-hand, even on line. We should respect the right of others to disagree with us as well as honor their right to their own opinions.
Think twice. Think once about what you write and again before clicking that send button, because after your words are launched into cyperspace you cannot take them back.
Use discretion, always, in all online activities, and do not assume anything. Whether you know it or not the Internet is monitored for various reasons by law enforcement agencies, cybercriminals, and others. My number one rule is – Do not share any information or photos on line that you would not share with friends or associates off line.
Avoid using all caps. Some people don't know this but writing in all capital letters online signifies SHOUTING in internet communication. An occasional capitalized word or phrase for emphasize is okay, but persistently writing in all caps is considered inappropriate behavior.
Reciprocate.  Some people have their FB privacy features set to prevent others from writing or commenting on their timeline, yet, they freely comment on the timelines of their friends. Give as good as you get.
Be honest. Lies are encumbering. They command attention like a high maintenance woman. You have to remember a lie – being truthful eliminates the burden of having to remember a lie.
Be neither defensive nor take offense. Some people are offended by things that other people post on their own timeline. Unless someone addresses you by name and taunts you like a cyber bully, don't take it personally. Ignore it. If someone makes a threat against you that's different; you need to contact the law. But if you merely feel intimidated by something that someone wrote on their timeline that was not addressed to you or about you, don't respond negatively. Doing so simply shows that you are paranoid, insecure or envious. If something you see bothers you, ignore it.
Say it forget it; write it regret it. Once you submit an electronic message, whether in an e-mail, text, or as a post to a social networking site, it will be stored on servers all over the place for others to read, and you won't be able to take back your words. Even if you intend for something that you write or that picture of you in your birthday suit to be private, don't put it on line. It will become very public and may be seen by people you never intended to see it — forever.