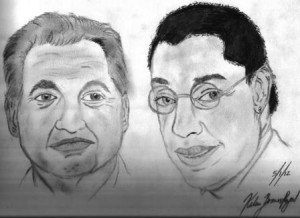 Many Boomers bemoaned the loss of  Dick Clark, the 82 years young, 30-year host of "American Bandstand" who died of a heart attack on April 18. Two months earlier on February 1, Don Cornelius, the original "soul man" and long-time host of the nationally syndicated "Soul Train" was found dead of a self-inflicted gunshot wound. He was 75.  In spite of the fact that Clark was white and Cornelius black, their "rock and soul" music and dance programs attracted fans of all ages across racial lines and there is hardly a Boomer alive who does not remember them.
"American Bandstand" became regular viewing at our home sometime in the late 1950s, when my dad – who loved to dance – discovered the show while switching channels in search of a Randolph Scott or John Wayne western. In a few weeks, I too had become a loyal "Bandstand" fan. And years afterward, I looked forward annually to watching "Dick Clark's New Year's Rockin Eve." As I was to learn, so too did many of my friends.
One New Year's Eve, in the late 1970s, I was hosting a party in my apartment. My guests were dancing all over the place to a funky tune by Earth, Wind and Fire. At around 11:45 p.m. someone lowered the volume on the stereo (to the delight of my neighbors, I'm sure), and then switched on the television set. Everyone stopped dancing long enough to gather around the TV for the balldrop and countdown, and we all joined Dick Clark and the Times Squares revelers in a rousing "Happy New Year!"
In 1971, when "Soul Train" rolled onto the airways, I climbed on board. Cornelius, the train's metaphoric conductor and literal host had viewers nationwide trying to imitate the fancy dance moves of Damita Jo Freeman, Joe Chisum, Patricia Davis and other members of the "Soul Train Gang." In its early days, as the kids today might say it – "Soul Train" rocked!
Cornelius fans can only wonder what demons led him to take his own life, but when yours truly thinks of the soul man's last moments on this earth, I imagine him signing off with his signature catchphrase, "In parting, I wish you love, peace and soooul!"
It seems ironic that both Cornelius and Clark, two men who brought so much musical entertainment and joy to the Boomer generation would die within months of each other. They were a dynamic duo of rock and roll — and rock and soul — and they made us get up and dance.