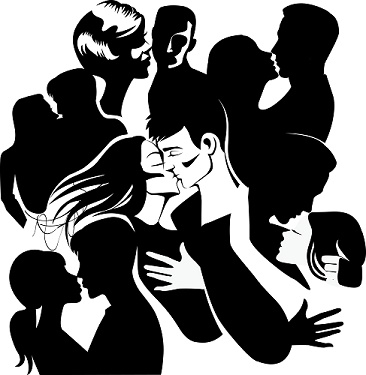 Does your family tree have kissing cousins on its branches? Ask anyone you know and you'll find that the term kissing cousins means different things to different people. According to the Urban Dictionary, Merriam, and some other lexicons a kissing cousin is "a relative known well enough to be given a kiss in greeting." On the other hand, some people think of kissing cousins as cousins (or other blood relatives) who are romantically attracted to each other as KCWB (kissing cousins with benefits). In this article let's go with the latter assumption.
While researching the topic, I found some interesting facts to share with you. Kissing cousins – although considered incestuous and taboo in some societies – is more common than some people would imagine; and in the United States marrying a first cousin is a criminal offense only in slightly over a dozen states.
History tells us that the second US President John Adams married his second cousin, Abigail Smith in 1764. John Q. Adams, Jr., son of John Quincy Adams, the sixth US President, married his first cousin, Mary Catherine Hellen. There were other intermarriages among cousins in the Adam's clan, keeping it all in the political family. Obviously, there were numerous John's too. No pun intended.
In more contemporary times there was the controversial and nearly career ending twelve year marriage of 22-year old rock and roller, Jerry Lee Lewis, to his 13-year-old first cousin, Myra Williams, in 1958.
The first marriage of former mayor of New York City Rudy Giuliani to his second cousin Regina Peruggi, in 1968, may have caused a few leaves on his family tree to shrivel and fall.
Keeping it all in the family, it has also been reported that Britain's Prince Charles and his wife Camilla are distant cousins.
Throughout history and to this day there are numerous accounts of kissing cousins (first, second, once removed, twice removed and on down the line) shaking branches on family trees all over.
Some people believe that sexual intimacy and marrying a cousin or other blood relative is immoral. To reinforce their position they may cite Leviticus 18:6, where the Bible addresses sexual impurity, including relations with close relatives. "None of you shall approach to any that is near of kin to him, to uncover their nakedness…."
For readers who are not inclined to be judgmental, but are merely curious about intimate relationships among cousins and the stigma associated with it, numerous books and articles have been written on the subject including an insightful piece published in The New York Times in 2009 titled Shaking Off the Shame.
You genealogists out there, shake, er, I mean study your family tree. You might be surprised to discover that there are married or KCWB hanging on the branches.