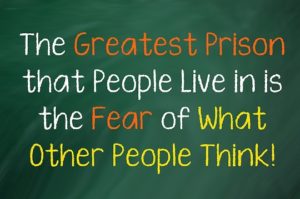 It's overcast outside. Grey clouds are threatening a downpour at any moment. On autumn days like this one, I like to put on some easy-listening music, grab a cup of coffee and sit and think.
I call it quiet introspection.
People who know me say that I am transparent. I admit that I am also opinionated. And that's not necessarily a bad thing. Holding my tongue not only belies who I am; it agitates me like an itch that gets worse the more I scratch it. There are some things – not many – that I will not speak openly about unless I am asked, and my answer may be brief but candid. Depending on the topic, my advice is if you are not prepared to hear the answer, then don't ask the question. It's a play on the axiom, "Be careful what you wish for; you just may get it."
Someone else's viewpoint about an issue is their opinion, and mine is mine. They may argue that my perspective is wrong, but I will not change my mind to appease them. By the same token, if someone disagrees with me, I won't try to change their mind, but I will let them know that I feel differently.  Everyone has an opinion (though, but some folks would never admit to it). The best thing for strengthening an opinion is having reliable information to support your position. For instance, if I say that over half of the people in this country drink coffee every day, that is my opinion. If I say that a Reuters study shows that 64 percent drink it daily, I've backed up my opinion with data provided by a verifiable source.
I try to be open-minded to suspend judgment and to accept without condemnation things with which I don't entirely agree. I am no more perfect than the next person, and I wouldn't think of casting the first stone. But what I am not – is a hypocrite.
This nonconformist does not follow the herd. I will not pretend to believe that day is night, left is right, and what I perceive to be wrong is right just because society may dictate it or because everybody else thinks it's okay. Nevertheless, my doctrine is simple – live and let live.
My mother was dutifully religious. I consider myself more spiritual than religious, but the disadvantage of being a child imbued with a strict religious upbringing is that it sticks with you through adulthood. Mother has been dead for six years; however, in my mind, I still hear her quoting Proverbs 22:6. "Train up a child in the way he should go: and when he is old, he will not depart from it."
I don't know how many times I heard her say that when I was growing up.
Sometimes we deviate. That doesn't mean that we forgot the lessons. God bestowed us with free will, and fortunately, or unfortunately, depending on how you look at it, we make a conscious choice to choose the other of the two roads in our path instead of the trail we were taught to follow.
Since the scriptures prophesize that we "all have sinned," sometimes I think that trying to walk a righteous path is futile. If I could say that to mother now, she would immediately remind me that the Bible also says that each of us will be judged according to our deeds.
So, I reiterate that I will live and let live. But I refuse to be fake. Sometimes even when I go along to get along, I feel like a fraud. Anyone who wants me to accept them for who they are must, in turn, take me for who I am. Because we disagree doesn't mean that we have to be nasty about it. It merely means that we have a different point of view.
Indian philosopher Krishnamurti said, "The ability to observe without evaluating is the highest form of intelligence." I haven't reached that peak. Maybe I never will. But I don't worry about it, because I have plenty of company on the concourse level.
It takes an extraordinary person to look at something – anything – in a completely neutral manner. Can someone be open-minded and critical at the same time? Is it feasible to think that even the smartest person can observe something and not draw a conclusion? I wonder. Because someone doesn't publicly express an opinion, but that doesn't mean that he or she has not formed one?
There is nothing like relaxing to some easy-listening music, a cup of coffee, and quiet introspection – in my opinion.