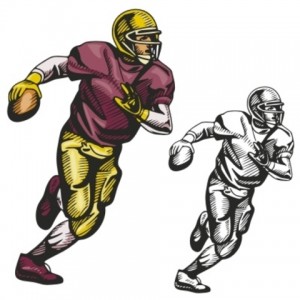 As is the case with nearly everything, people have their preferences. On this occasion, I am sharing the opinion of armchair quarterbacks; concerning NFL throwback uniforms.
Before I reveal what some may find to be the surprising viewpoints of the AQ's, let me report that according to Wikipedia "Throwback uniforms have proven popular … not only with fans, but with the teams' merchandising departments."  That statement begs the question:  who in the name of gridiron is buying those awful looking jerseys?
Who likes them? There is mixed opinion among the football fans surveyed for this post. One fan said, "They [the teams] should just stay with the regular uniforms and find another way to commemorate special occasions."  If they want an alternate look, why not get something more contemporary? Most of the throwbacks look outdated and unstylish. Oh, but isn't that what they are?
Actually, the throwbacks of some teams are not that bad looking. According to some survey participants, the award for the least favorite and ugliest retro uniform goes to the Pittsburg Steelers. When that team brought out their throwbacks last week in the game against the Washington Redskins, it looked to me like someone had released a box full of Tony the Tigers on the field. A commenter on another blog saw it differently. He wrote, "Not sure if I'm looking at a football player or McDonald's next hamburglar [sic]."  And still another fan wrote that he was confident that the Steelers' uniforms were intended to distract the Redskins. Apparently, the ploy worked.
Someone else, expressing disappointment with the wearing of throwbacks by any team wrote, "There's a reason those uniforms are no longer in use." And a very candid football enthusiast may have scored a theoretical touchdown with fans that are in consensus when he voiced this opinion, "Whoever suggested wearing throwback Jerseys? When we find out we should check to see if that person's last address was a psychiatric ward."
Earning honorable mention in the category of all-time ugliest throwback uniforms — whenever they are worn — are The Packers, The Bears, and the Broncos.
For some old timers, throwback uniforms may bring back memories as it did to one blogger who wrote on Yesterday's Heroes, "Looking at a classic throwback jersey is like looking at a 1957 Chevy, you never get tired of looking at something so beautiful."  Regardless of sporadic praise for throwbacks, the majority of the people I questioned turned thumbs down on the retros and unanimously agreed that when it comes to throwback uniforms — what was worn in the past should stay in the past.