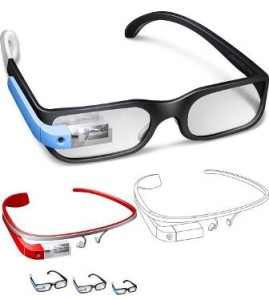 The rush is on. The hotly-anticipated Google Glass goes on sale to the general public today.
Google Glass is a lightweight, wearable computing device with a high resolution display. It takes photos, records videos, shows Google maps, and allows users to send and receive text messages and emails, as well as share information on social networking websites. It is not another hand held device; instead Google Glass delivers all of the aforementioned features and more via a small screen positioned in front of your eye.
For those who can swing the $1500 price tag, Google Glass is one more futuristic gadget for your adult toy chest. The durable headgear, with adjustable nose pads, is designed to fit any face. It can be worn without lenses or can be fit over prescription glasses with multiple colors, frames, and shapes.  In addition to visual images, the device provides audio through a bone conduction transducer. What the heck is a bone conduction transducer? some of you are asking yourself. Unlike bulky headphones that rest on the outer ear or earbuds designed to be inserted into your ear canal, Google Glass renders sound waves through the bones in your head.
The high tech device comes with a charger and has connectivity with Wi-Fi and Bluetooth. It utilizes Google cloud storage, and for anyone who needs to speak or understand a foreign word or phrase, the device has a language translation feature. ¡Hola!
Google Glass does just about everything except wake you in the morning and prepare your breakfast.
But every upswing has its downside and just as Smartphones, tablets and other trendy tech devices are criminal magnets, Google Glass is no exception. Prior to the device becoming available to the general public today, related crimes preceded the announcement. Last week Kurt Russell, a journalist with Business Insider, had his Google Glass ripped from his face.
Before you consider dropping $1500 on Google Glass, chew on this food for thought, prophesied in the predigital era by Albert Einstein. "Technological progress is like an axe in the hands of a pathological criminal."