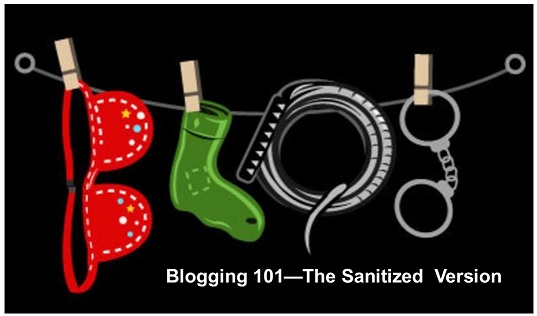 Anyone can start a blog. If you can write, you can blog. If you write well, you can have a loyal readership of your blog.
For you readers who are interested in starting a blog but don't know where to begin, there are numerous bloggers that will give you detailed and lengthy instructions on creating a blog and possibly making lots of money with it. Google them. However, if you are pressed for time and prefer my two-minute pitch on getting started continue reading.
The first thing you do is find a blogging platform. That's a service that will publish your content on the Internet. There are several free blogging platforms out there including Blogger, Tumblr, Ghost, and one of the most popular — the one I use for each of my websites — WordPress.
After you've decided on a platform, choose a domain name. Your domain name is your web or network address. Think of it as an on-line street address that will help people find you. Choosing a name that is short and memorable is the best way to go, and the name should be relevant to the content of your blog. If you need help selecting a domain name, there are sites like godaddy.com that will assist you for a cost.
Once you've selected a domain name, you'll pay a small charge to register it. You will also pay an annual renewal fee to keep your blog up and running. If you've gone that far, then you probably already know what content you want on your blog. So, now decide how you want your blog to look. If you are a new blogger, follow the KISS principle – Keep It Simple, Sugar. (I threw you a curve with that acronym, didn't I?)
Design your blog. You can design your own blog using the software associated with the platform you chose, or you can have someone design it for you. Depending on the purpose of your blog and how you want it to look, you could spend a few dollars to get a practical site up and running or hire a designer who will charge a few hundred dollars for a custom designed blog with impressive bells and whistles.
The amount you spend to set-up your blog depends on your objective. There are countless types of blogs. Do you want one that will promote your business, provide consumer information, inspiration, or guidance, or do you want a figurative soapbox on which to express your thoughts and personal opinions? A personal blogger, that's me. Keep in mind if you choose the latter and are an opinionated person like yours truly, you may attract followers who enjoy reading your posts, but you will also attract people who disagree with you and won't hesitate to say so in the comments section. (Virtual haters, begone!).
Remember – it's YOUR blog. Your blog is your voice; meaning you can rave about things you like or bitch about things you dislike. Providing that you don't write anything that will have you nervously twitching in court while facing a lawsuit, or land you in jail for a social media offense because you took the First Amendment literally, then you are good to go.
Through your blog, you'll make contacts that you might not otherwise make. Over the years, I have connected with and become friends with a few good bloggers. I follow their blogs. They read mine. Next thing you know, as a result of our online interactions, we're exchanging emails, discussing ideas, and even sharing funny stories or other tidbits about our families.
In my opinion, the hardest thing about blogging is coming up with interesting topics. Sometimes I write about current events, and my hot topic — politics. Other times I share more personal thoughts and feelings. Whatever your topic, you cannot be timid about taking a stance on what are sometimes contentious issues. You never know who is reading you.
Two cases in point:
In September of 2012, Dr. Sydney Ross Singer, medical anthropologist and author of several health books commented on a post I wrote about how women feel about wearing bras. He emphasized that "chronic constriction from bras is a leading cause of breast cancer."
Last year, my post about not being a bandwagon person brought a tongue-lashing comment from one of my readers who implied that I was a bigot. (That shoe doesn't fit.) The comment was longer than my post. So be it. I had expressed my opinion. The anonymous commenter expressed his or hers.
If you are determined to maintain your position even though it means going against the grain of prevalent opinion, don't expect to win a popularity contest. And don't worry about whether everyone will agree with what you write because not everyone will. Just like on Facebook, you'll learn to accept flattery with humility and take criticism like a referee booed for making a bad call during a Superbowl game.
Blogging will give you plenty of writing practice. To date, I have posted over 400 blogs. You may also acquire new skills like understanding the difference between a theme, plugin, and widget.
My two minutes are up. If this post wets your appetite, then go ahead and blog. And while you are enjoying it, keep in mind the wisdom of a fellow blogger who wrote, "A blog can help you build a legacy that will outlive you."